© Solmaz Daryani. Lake Urmia, Iran. 2016.
Episode 2: The Environmental Sublime
Click here to register for the FREE LIVE webinar.
Start Time: 14:00 GMT / 15:00 BST / 16:00 CET / 10:00 EDT
End Time:
16:00 GMT / 17:00 BST / 18:00 CET / 12:00 EDT
The event is hosted jointly by The Photography and the Archive Research Centre at the London College of Communication, University of the Arts London, Climate Visuals, Slideluck Editorial and the VII Photo Agency.
The 'sublime' is a concept and cultural practice that has influenced the western understanding, engagement, representation, ethic, and aesthetic in art since the seventeenth century. Throughout history, the role of the sublime has influenced how citizens aesthetically view images of pain and horror as interesting and 'beautiful', as long as the spectator is safe from danger.
The proliferation of image-making and sharing in the past years have made viewers more accustomed to seeing images of destruction, violence or ice-melting, with the risk of letting the spectators consume the story aesthetically rather than politically.
Has the role of the 'sublime' and aesthetics changed in documenting and visualising pain, horror and danger, over the years? Through examples and the witnessing of contemporary photographers, we'll try to understand and raise questions, hoping to identify a balance between content, ethics and aesthetics, and the fundamental need for documentary photography visualising climate change, to engage, create empathy and inspire positive actions.
This symposium will explore strategies that combine a distinctive visual strategy with a campaigning ethos and examine how audiences might respond to work in spaces outside of mainstream media alone.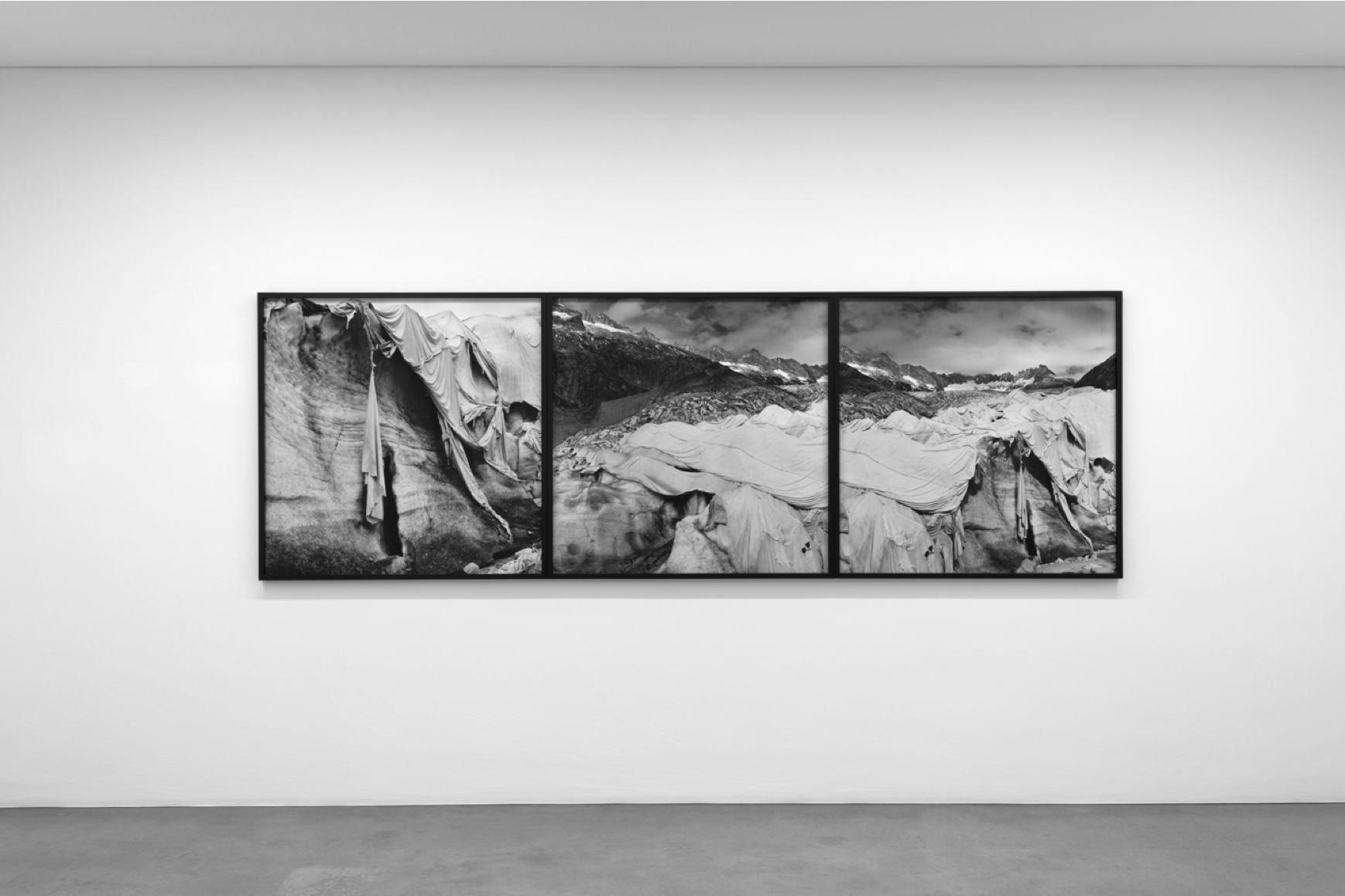 © Daniel Schwartz / VII. Rhone Glacier. Switzerland. 3 September 2014. Carbon Pigment Inkjet-Prints from 6 x 6 negatives, 2015. Triptych, 1/5. 112,5 x 337,5 cms.
Exhibition view «Daniel Schwartz. Glacier Odyssey», 2018.
Courtesy: Bündner Kunstmuseum, Chur, Switzerland, and Calle Services Management Ltd, Zurich.
Schedule
Moderation by Paul Lowe
16.00-16.15 CEST Introduction by Maria Teresa Salvati
16.15-16.35 Klaus Thymann/Project Pressure
16.35-16.55 Simon Norfolk
16.55-17.15 Daniel Schwartz
17.15-17.35 Solmaz Daryani
17.35-18.00 Panel discussion
Klaus Thymann/Project Pressure
Danish born Klaus Thymann is a multi-award-winning photographer, filmmaker, writer and creative director. He has developed an original viewpoint having worked across a wide range of subjects and media, utilising a cross-disciplinary skill-set combining journalism, image-making, mapping, documentary and exploration with a focus on contemporary issues and climate crisis. Delivering original content and installations across multiple platforms for Institutions, brands, NGOs and media.
Project Pressure is a charity with a mission to visualize the climate crisis. We use art as a positive touch-point to inspire action and behavioural change. Unlike wildfires and flooding, glaciers are not part of the weather system and when looking at glacier mass loss over time, one can see the result of global heating. This makes glaciers key indicators of the climate crisis and the focus of our work.
Since 2008 Project Pressure has been commissioning world-renowned artists to conduct expeditions around the world for the purpose of creating an exhibition visualizing the climate crisis. The artists represented in the exhibition have taken on the role of investigators of Earth's increasingly unstable environment – creating eye-opening work that endeavours to incite social and political change. The projects were developed and executed with scientists to ensure accuracy, resulting in work from every continent on the planet.
Project Pressure has pioneered innovative, new technological strategies and forged partnerships with the World Glacier Monitoring Service (WGMS) and the National Aeronautics and Space Administration (NASA). In 2011, Project Pressure was recognized as an official contributor to the Global Terrestrial Network for Glaciers (GTN-G).
With more than 30 countries and territories visited, Project Pressure has generated reoccurring media coverage in The Guardian, BBC, NY Times, CNN, Le Monde, Wired and National Geographic amongst many others.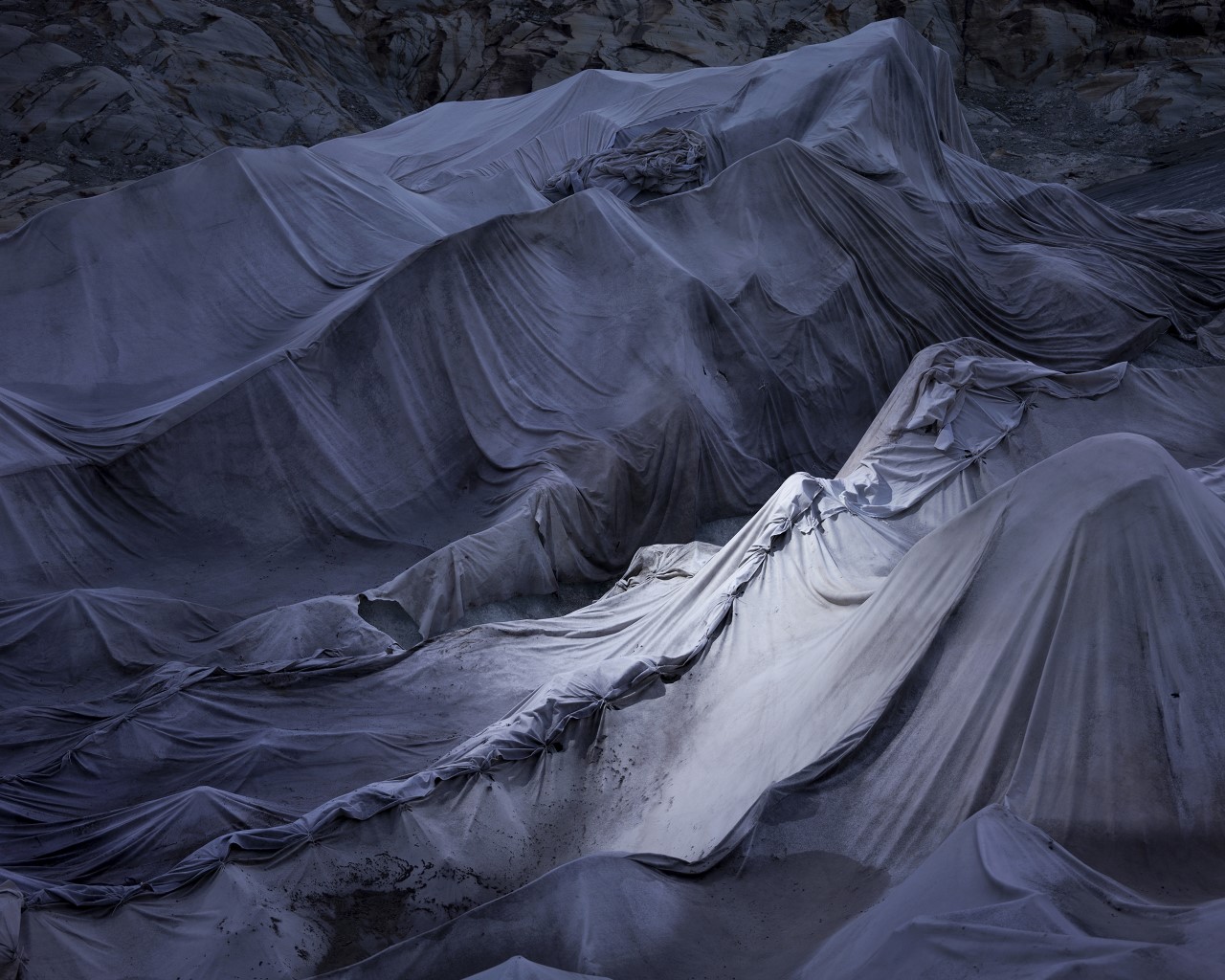 © Simon Norfolk / Klaus Thymann. Shroud, 2018.
Simon Norfolk
In October 2014 Simon Norfolk traced the previous glacial area of Lewis Glacier, Mount Kenya, using fire to show the 1965 glacier extent. The result are comparative images representing the historic as well as the current glacial front. In utilising a dramatic juxtaposition of elements alongside a simple message, Norfolk produced highly potent artwork. This series was the winner of the Sony World Photography Award 2015 (landscape category).
In an attempt to preserve an ice-grotto tourist attraction at the Rhône Glacier, local Swiss entrepreneurs wrapped a significant section of the ice-body in a thermal blanket. In their collaborative work, Simon Norfolk and Klaus Thymann address financial issues as driving forces behind human adaptation to the changing climate. The title Shroud refers to the melting glacier under its death cloak. In addition, a thermal image time-lapse film was created, showing how glaciers compare to the surrounding landscape by only reacting to long-term temperature changes, as opposed to weather fluctuations.
Daniel Schwartz
The presentation will briefly retrace my personal journey of thirty years on humanity's troubled path of progress, a process to become manifest in the climate crisis. While the Fires Burn. A Glacier Odyssey, begun in 2009, published in 2017 and being the main topic of my presentation leads from the relics of Holocene glaciation in Switzerland into the milieu of the Anthropocene, to collapsing glaciers on three continents. This project is the counterpart and continuation of Delta. The Perils, Profits and Politics of Water in South and Southeast Asia (1997). The early photojournalistic documentation turned out to be »a visual "j'accuse"« (Financial Times). The more recent project on the agony of the cryosphere lead to a "glaciology in pictures," and a synthesis of scientific observation and artistic action. Here, for the first time, the "explanatory," geometrically true aviatic perspective shapes the photographic image. Its terrestrial counterpart is the new media experience of exploration on foot and by bicycle (symbolizing a technological advance that is also environmentally sound), which thus become instruments of "walkscapes" and "bikescapes." These works, viewed in conjunction with the textworks and as a supplement to the (photographically reproducible) landscapes situated firmly in the present, yield an "anticipatory review": They home in on events and occurrences archived in glacial time that transcend geological strata and human memory spans, and by calling to mind prehistorical glaciation afford a foretaste of the next ice age, some 15,000 to 50,000 years hence. It is in the nature of glaciers to advance and retreat. Today, however, glaciers can lose their gate faster than a child learns to talk, and that can feel like a personal loss. The collapse of the stagnating ice of glaciers, whose reaction to climate change is delayed, means a collapse of the time frozen within it all over again. Not just my own lifetime since those days in the deltas a quarter of a century ago, but also the timespan punctuated by conferences, treaties, and protocols, during which greenhouse gas emissions actually rose by 40 per cent and politicians proved themselves incapable of taking concerted preventative action, while a million fires burn.
Solmaz Daryani
Solmaz is a self-taught Iranian documentary photographer based in Tabriz, Iran and Newcastle, UK. Her personal work explores the connections between socio-economic drought, climate change migration, water crisis, and the environment in her native Iran. She has a Bachelors Degree in Computer Science from Islamic Azad University in Tehran, Iran.
Through her work, she seeks to connect documentary photography and fictional storytelling, by exploring personal narratives that reveal characters and scenes in the communities that she is drawn towards. Her work has been published in National Geography Magazine, Foreign Policy Magazine, Polka Magazine, L'OBS Magazine, British Journal of Photography, Le Monde Magazine, Woman Paper Visa journal, Dutch geography schoolbook de Geo, Télérama Magazine, One World Magazine, The American Scholar Magazine, Emerge Magazine, Kel12 Magazine, Le Point Magazine and other publications.
In 2015, she received the IdeasTap and Magnum Photos Grant while working on the long-term project The Eyes of Earth, an investigation into the environmental and human impact of the drying of Lake Urmia which is one of the most unfortunate environmental disasters of Iran.