Isle of Dogs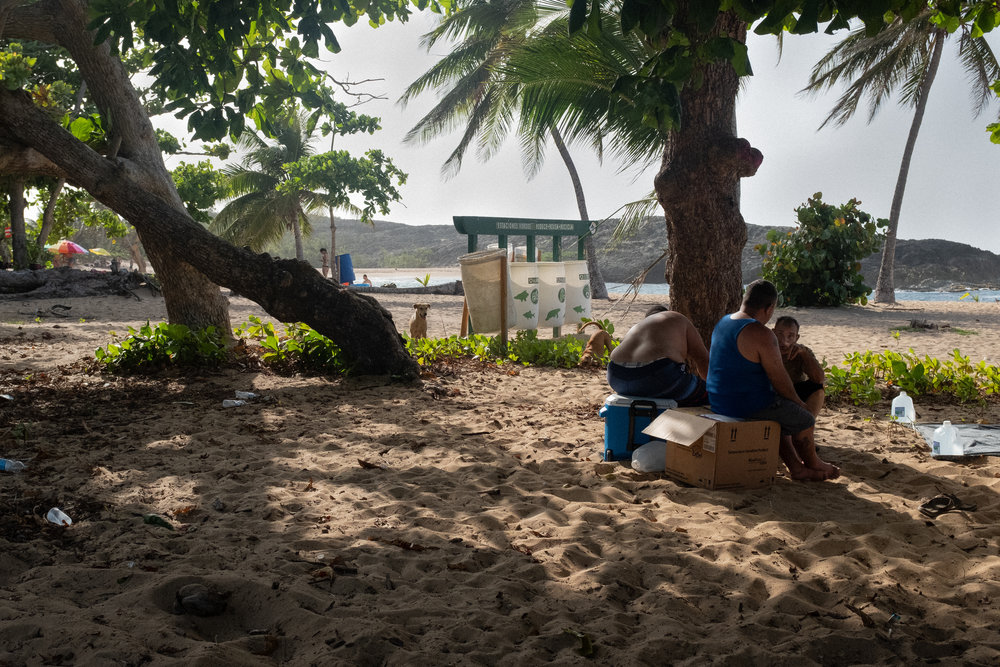 There are approximately 300,000 stray dogs and over one million cats roaming the streets and beaches of Puerto Rico. Most homeless or abandoned animals brought to shelters on the island are euthanized because of overpopulation.
After Hurricane Maria, many animal shelters closed. Before traveling to Puerto Rico, I read stories that stray dogs were tossed over fences, tied to gates and even left with $20 bills under their collars. Some dog-owners who left the island permanently locked their dogs inside their homes and never came back. Some dogs lived in cages on shelters' roofs because there was no room inside. With many clinics also closed, animal rights activists predicted that there would be a jump in the number of abandoned puppies due to the interruption in spay and neuter operations.
Supermarkets that used to donate leftover food had permanently closed after the Hurricane. Keeping abandoned animals alive became increasingly expensive.
To help reduce the number of stray animals and prevent euthanasia, the Humane Society of the United States (HSUS) and 22 other organizations, including the Sato Project, launched a historic, high-volume "Spayathon." The goal is to spay and neuter at least 20,000 cats and dogs by May 2019.
The expected long-term benefits of the spay and neuter operation in Puerto Rico are undeniable. Not only will it help prevent the continuous reproduction of stray animals, it will also educate pet owners on precautions to take and symptoms to be aware of, among other things. The HSUS is also planning on donating all its equipment locally to help further the animal welfare efforts in Puerto Rico after the end of the Spayathon. Throughout the 18-month operation, experienced doctors train young veterinarians on the field, giving them extensive practice in spaying and neutering.
My arrival in Puerto Rico coincided with the first 'round' of the Spayathon, which took place in different parts of Puerto Rico from June 3rd to the 9th. The next round is expected to occur in November, the third in March, and the fourth and final one in May 2019.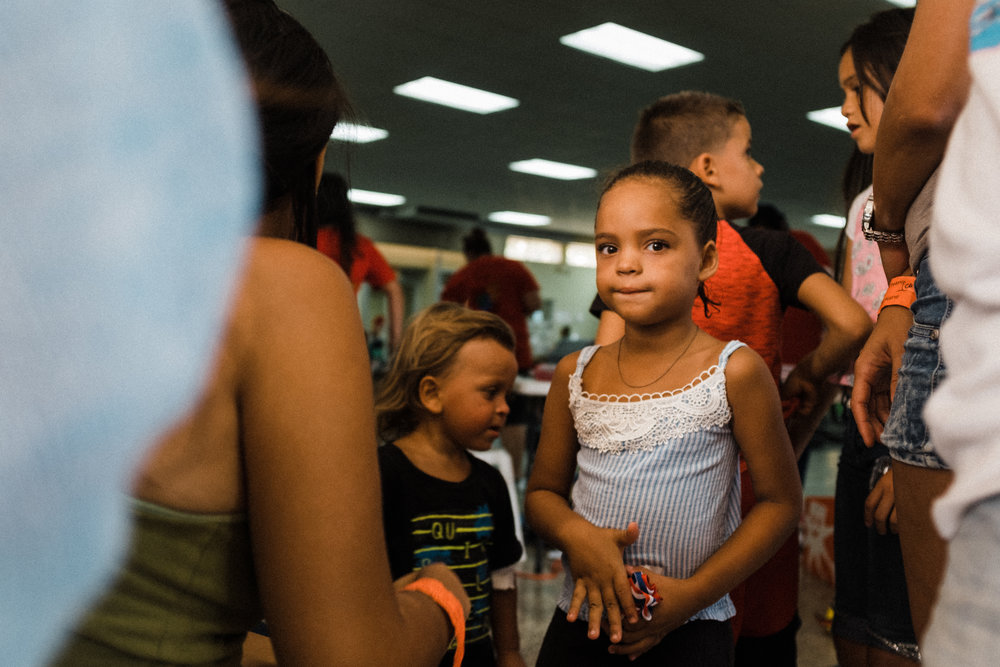 The goal of my project was initially to help rescue abandoned dogs that needed imminent medical attention, photographing and documenting the 'capture' and rehabilitation process. But there were no rescue missions during my time in Puerto Rico, as one of the heads of Sato told me, because rescuing dogs was no longer the most pressing concern. In fact, I very rarely encountered stray dogs on the streets. Providing medical attention to those already rescued as well as educating pet owners was far more urgent and valuable.
Shortly after my arrival, I was granted permission to photograph at a Spayathon clinic in Ceiba, an underserved town an hour east of San Juan. Each day, the operation at Ceiba tended to about 115 animals. Most of the veterinarians at Ceiba lived in the United States and had come to Puerto for the Spayathon. A couple from Texas, a doctor and a nurse, had been traveling intermittently around the world to various towns and islands hit by natural disasters. Another pair from New York, a college student and her mother, volunteered for the week, as did countless others. Young Puerto Rican volunteers were also present to facilitate communication between the clinics and the local people.
On my second day, I arrived at Ceiba at 5:30am, where a couple dozen pet owners were already waiting in line for their pets to be examined. The clinic had not yet opened, and most of the volunteers were still not on site. By 6:30, the line outside the clinic had extended to well over a hundred and fifty people. I asked a woman waiting in line about her dog, which was only a couple of months old but had scabs all over. She told me that it was the ninth dog she adopted since the hurricane. She had heard of a shelter near Puerto Rico's national rainforest, El Yunque, where one out of every three abandoned dogs were euthanized. She also told me that it was part of the culture in Puerto Rico to own several dogs and that many people she knew adopted them for security purposes. She had been waiting in line for three hours when I met her, and she was one of the last ones to leave the clinic that day, just as the sun was setting.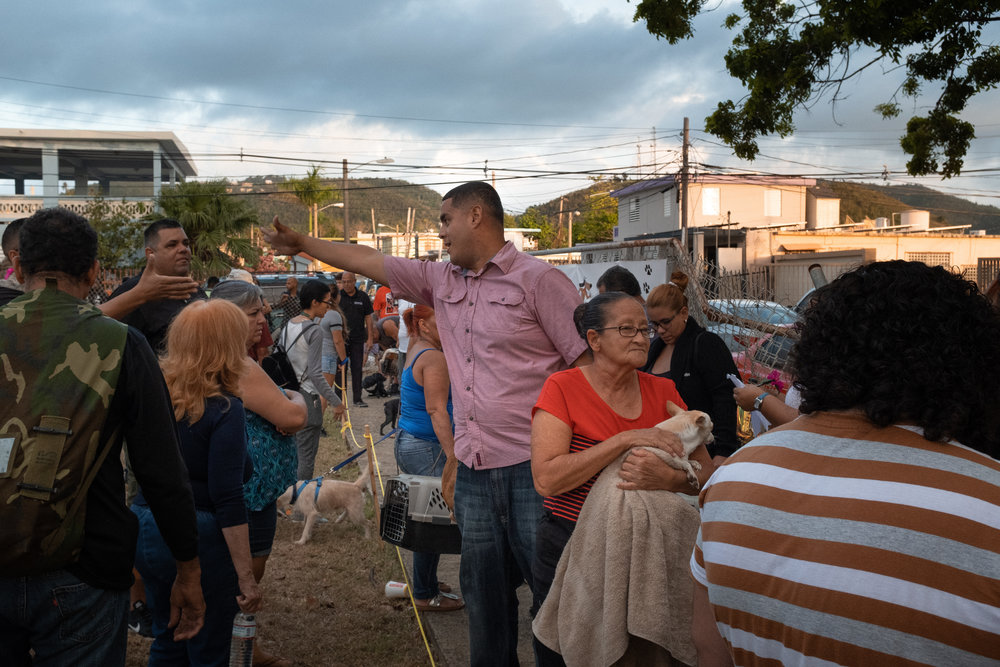 This woman's story was a common one. It occurred to me that these people's love for animals, wild and domestic, was deeply engrained in Puerto Rican culture. After my experience at Ceiba, I decided to photograph from a different angle. I sought to focus more on the people than on the pets themselves. The community wanted to learn about their animals and how to take care of them – most of them had never been to the vet before. The volunteers handed out pamphlets for children and adults, instructing them on different kinds of diseases, on symptoms, and on what to do in cases of emergency. They also explained why spaying and neutering was beneficial in the long-term.
The following couple of days, I went to visit the other Spayathon clinics in Manatì, near Playa Mar Chiquita, and Ponce, south of San Juan. The Manatì clinic was set up in a giant warehouse with basketball courts. The size of the operation there was about the same as that in Ceiba. Ponce, on the other hand, hosted the largest Spayathon operation in Puerto Rico, where over 500 animals received care daily.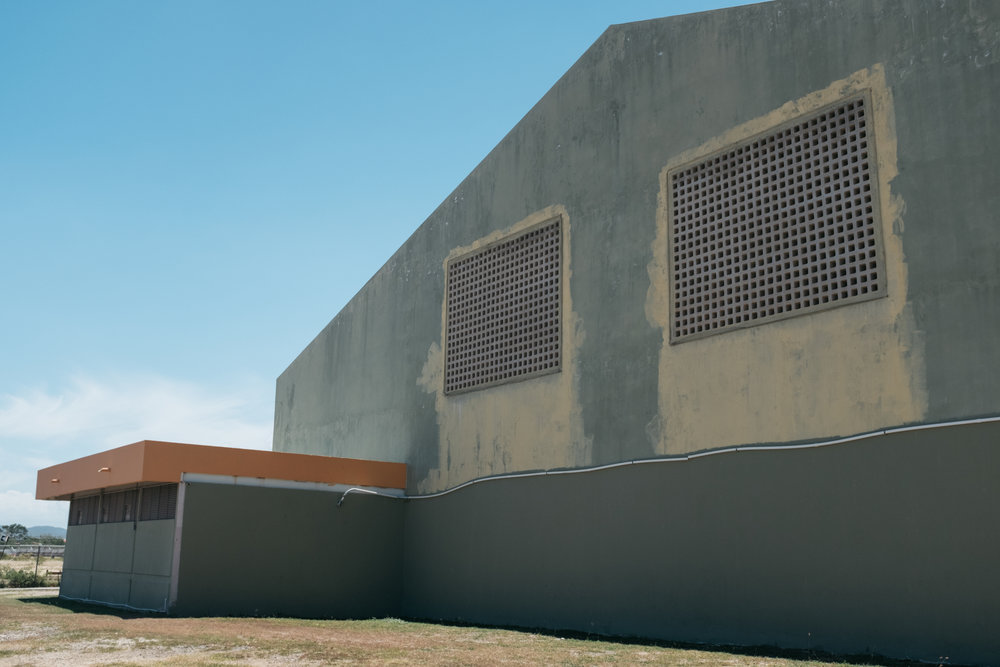 I was sitting outside the clinic in Ponce, going through my photographs, when I realized that none of the photographs I had taken in Ponce and Manati were as powerful as the ones I had taken in Ceiba, where I had invested much more time and had gotten to know some of the local people. I decided to return to Ceiba for my last day in Puerto Rico, where I felt the portraits were most sincere. I encountered familiar faces who were happy to see me again. They gave me a tour of the town and showed me the local cafeterias, high-schools, and Church, all of which promoted my understanding of Puerto Rican culture and their ties to animals, family, and friends.
A ground keeper at the local high school told me that Puerto Ricans are resilient, optimistic people who have gotten used to dealing with the innumerable complications due to natural disasters and that the community has always gone to great lengths to care of their stray animals, and always will. The patience the people at Ceiba showed was certainly a testament to this. And the numerous long-term benefits of the Spayathon operation will undoubtedly facilitate the process in the future, if a similar wind were to hit the island again.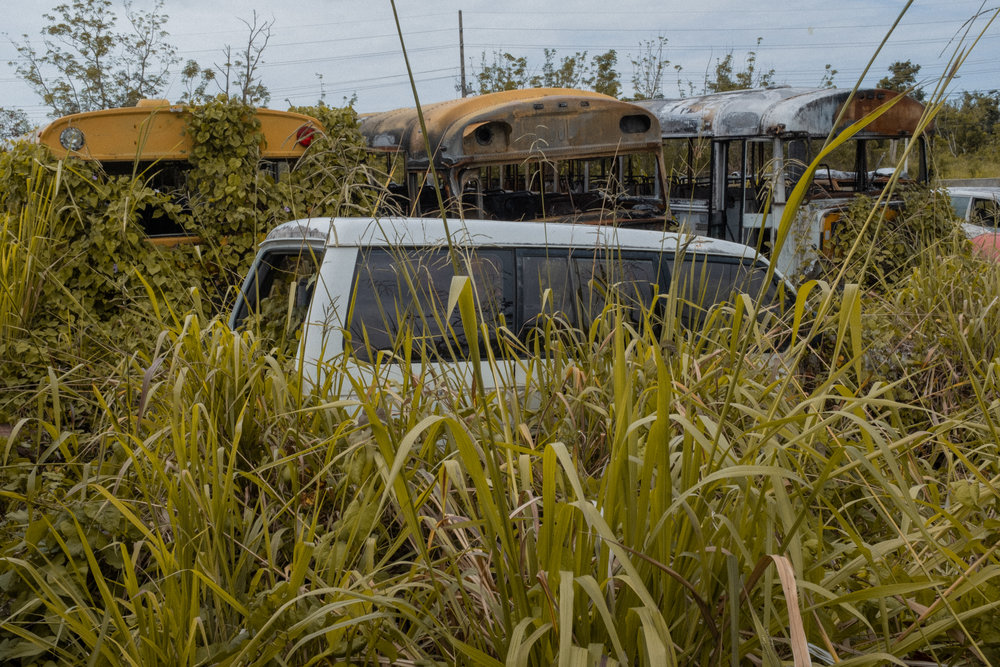 Abandoned vehicles near the clinic, Ceiba
Basketball court near clinic, Ceiba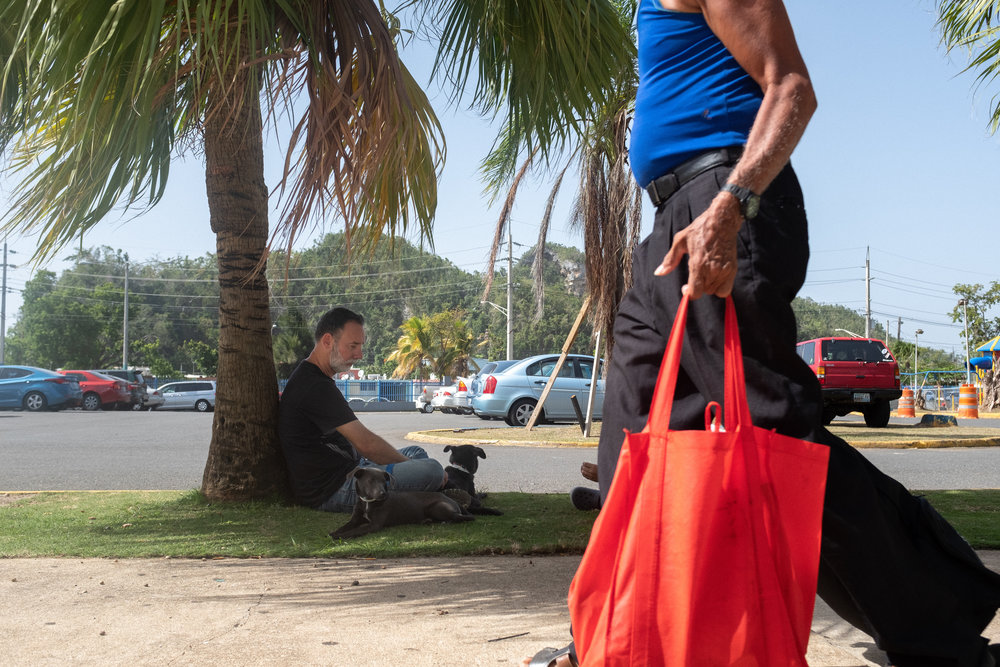 Waiting for the third one, Manatí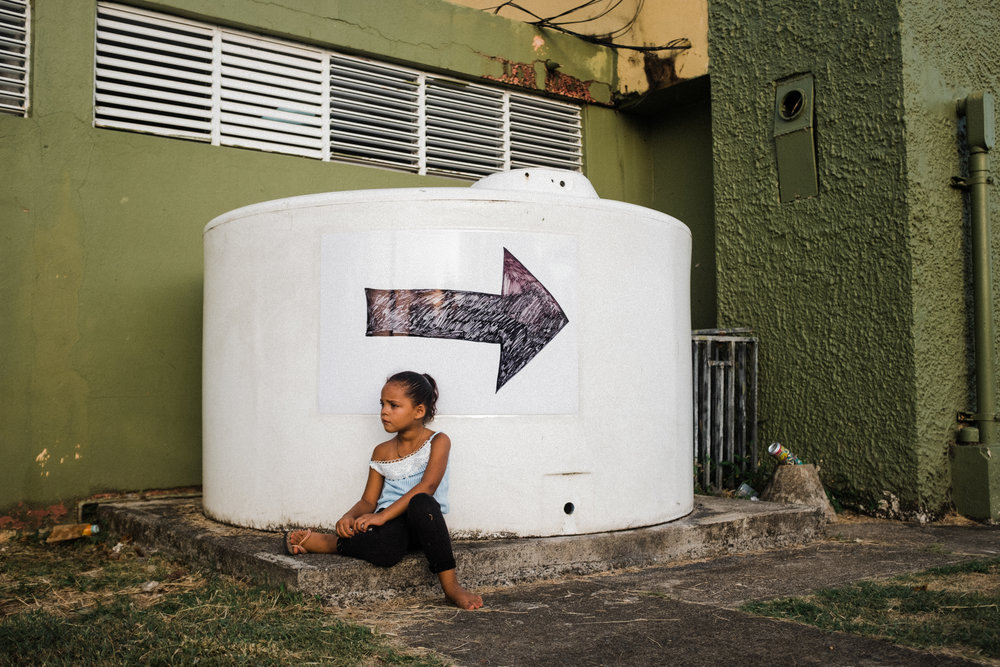 Waiting for her mother, Ceiba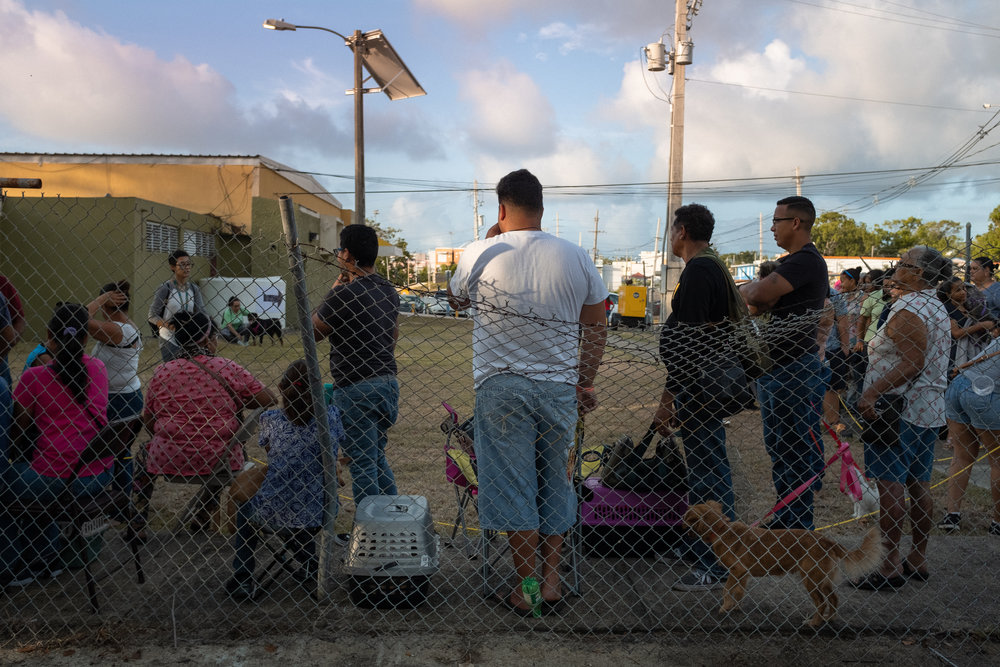 Waiting in line, Ceiba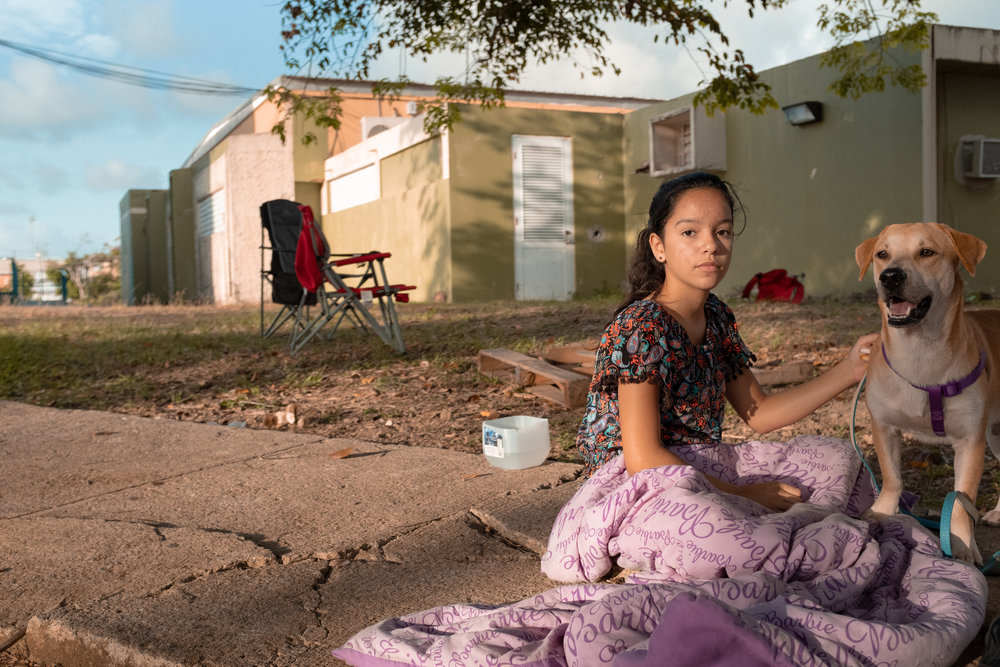 Girl and dog watch the sun rise, Ceiba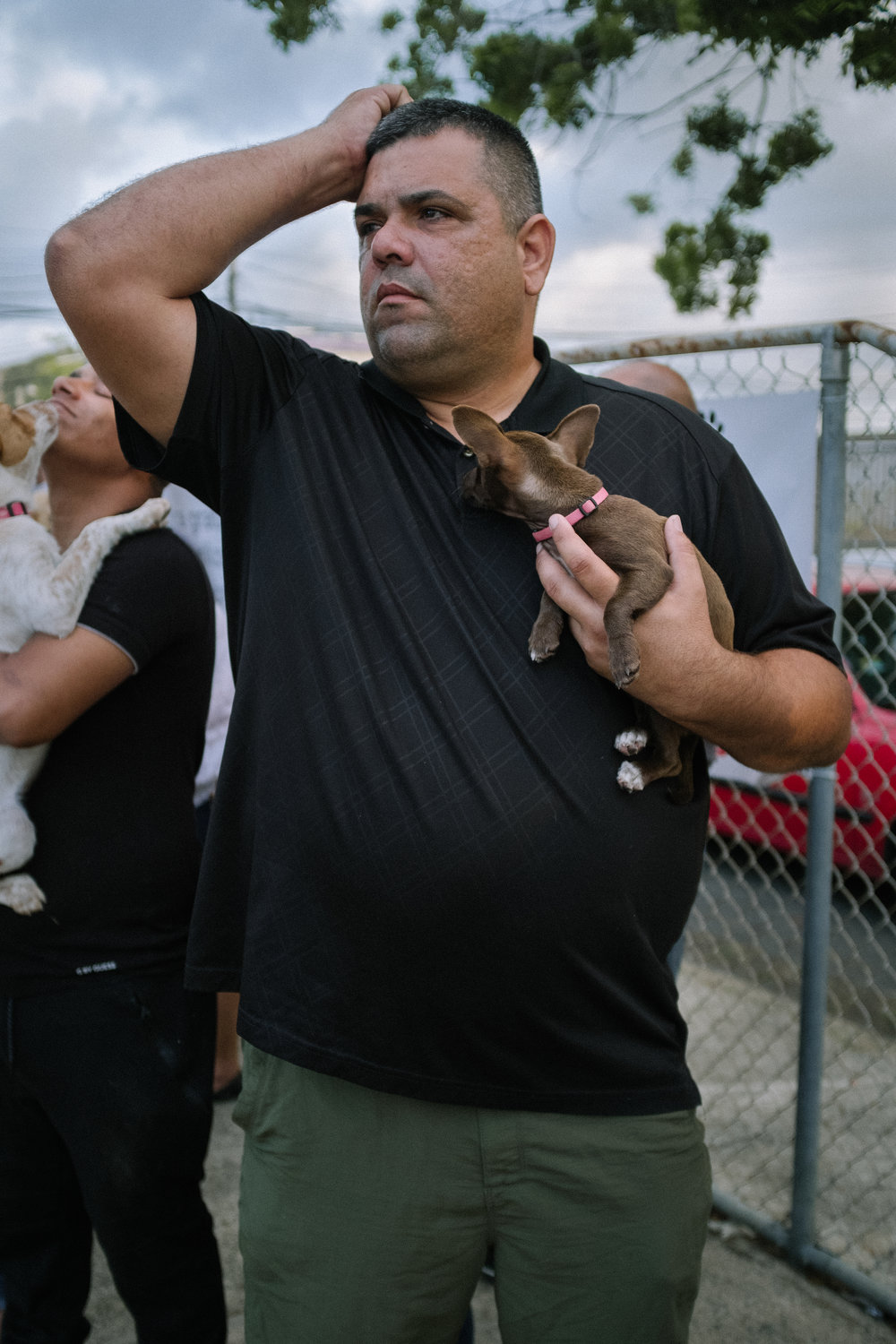 Waiting for his turn, Ceiba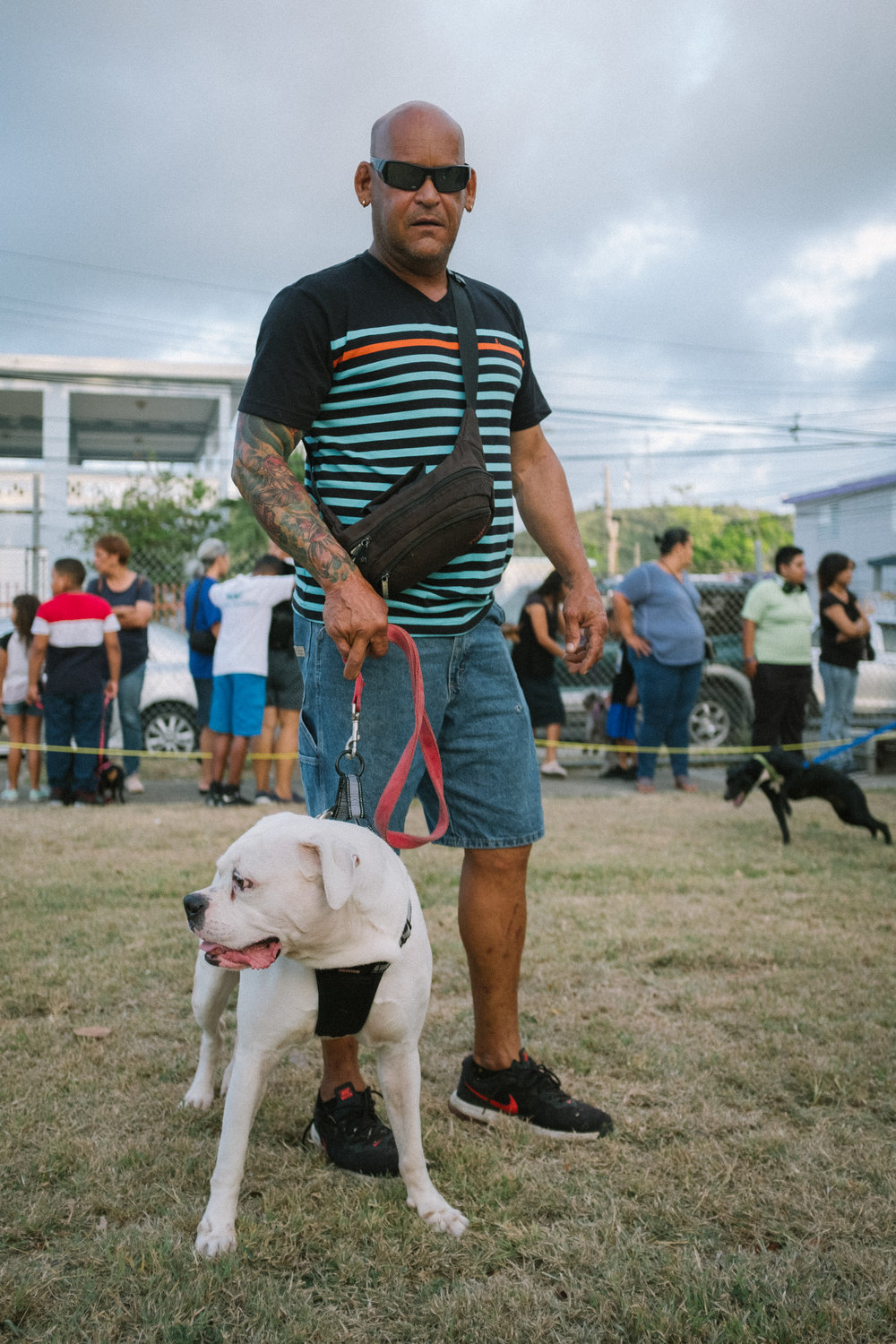 Waiting for his turn, Ceiba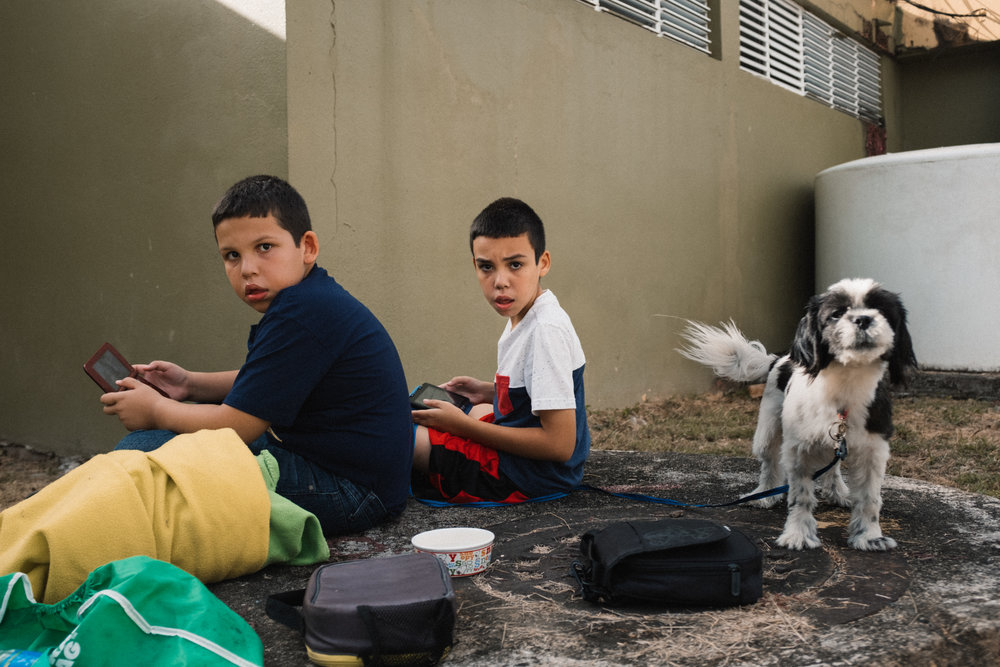 Two boys playing video games, Ceiba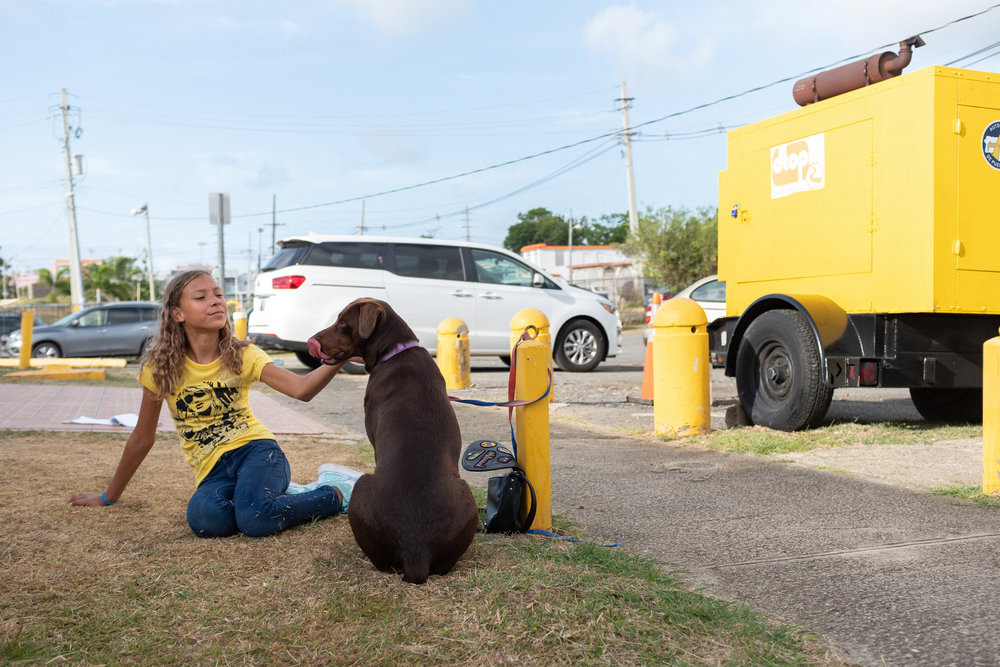 Girl playing with her dog near the clinic, Ceiba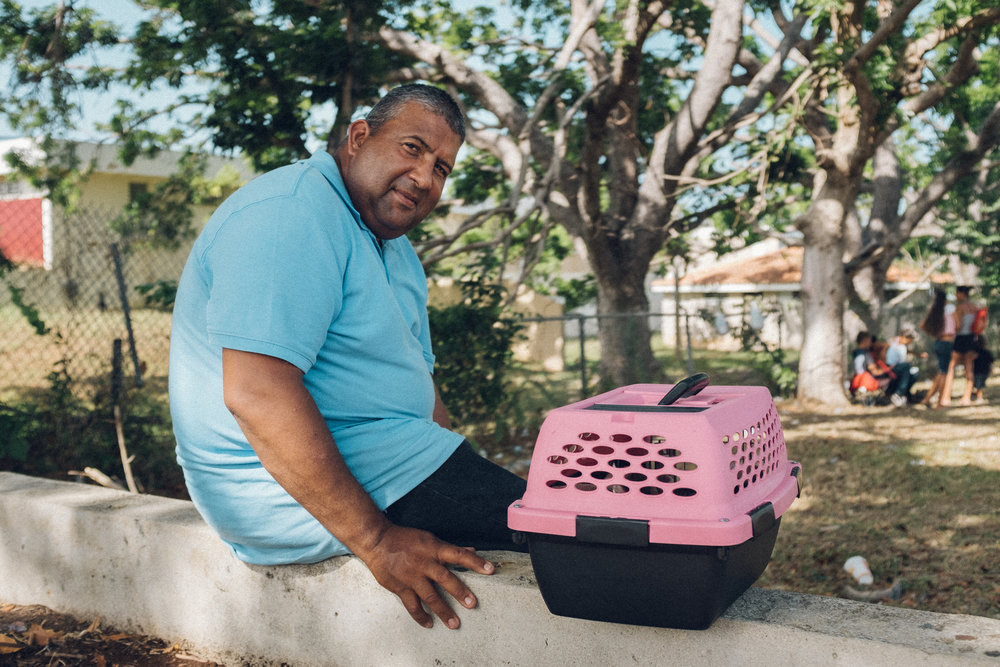 Minutes after receiving cat back from surgery, Ceiba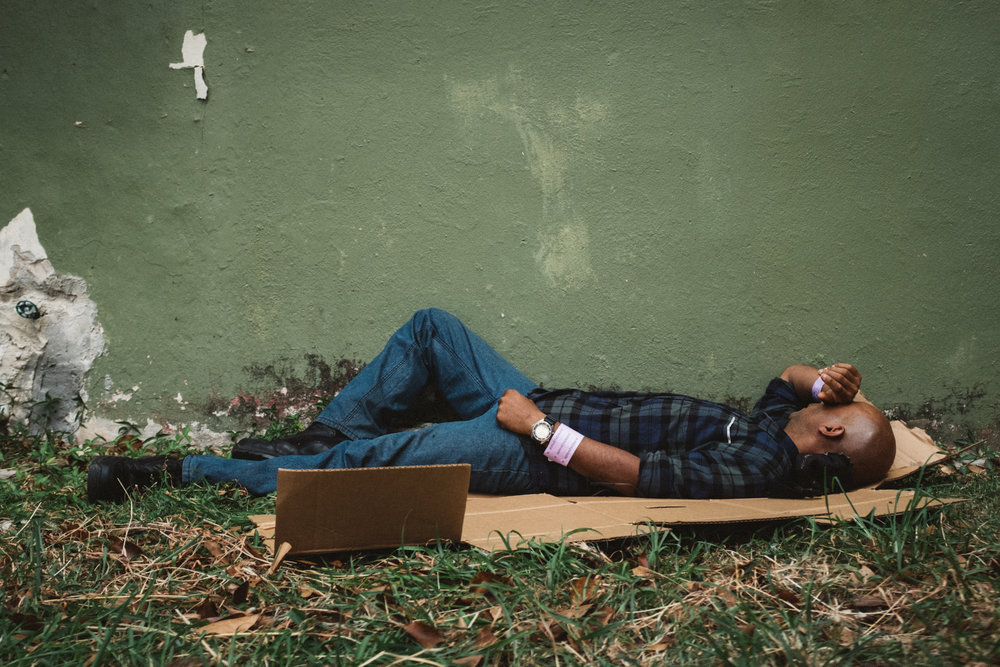 Resting behind the clinic, Ceiba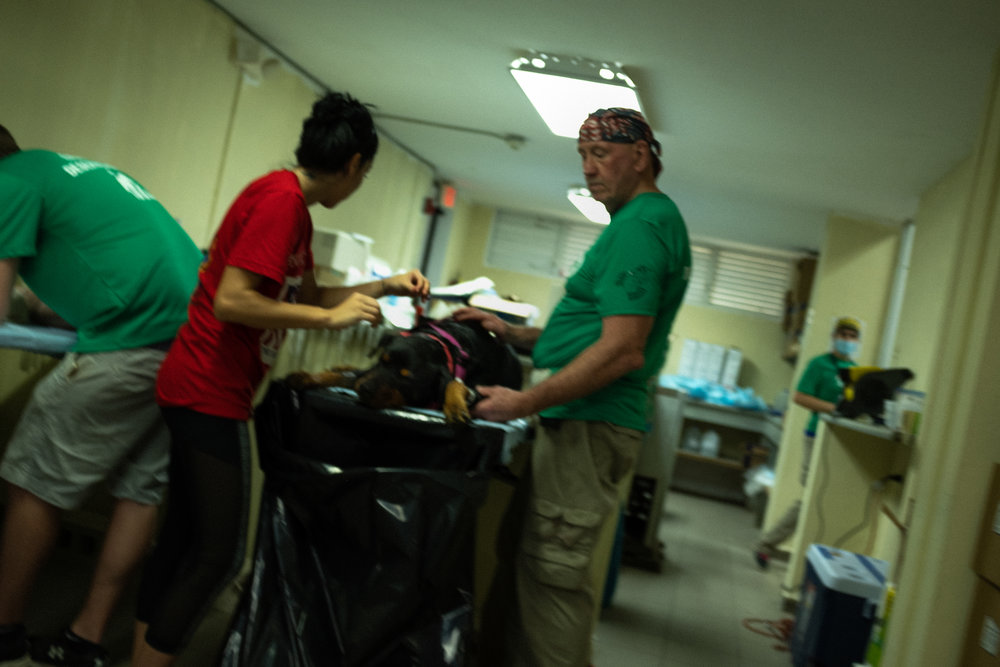 Surgery room, Ceiba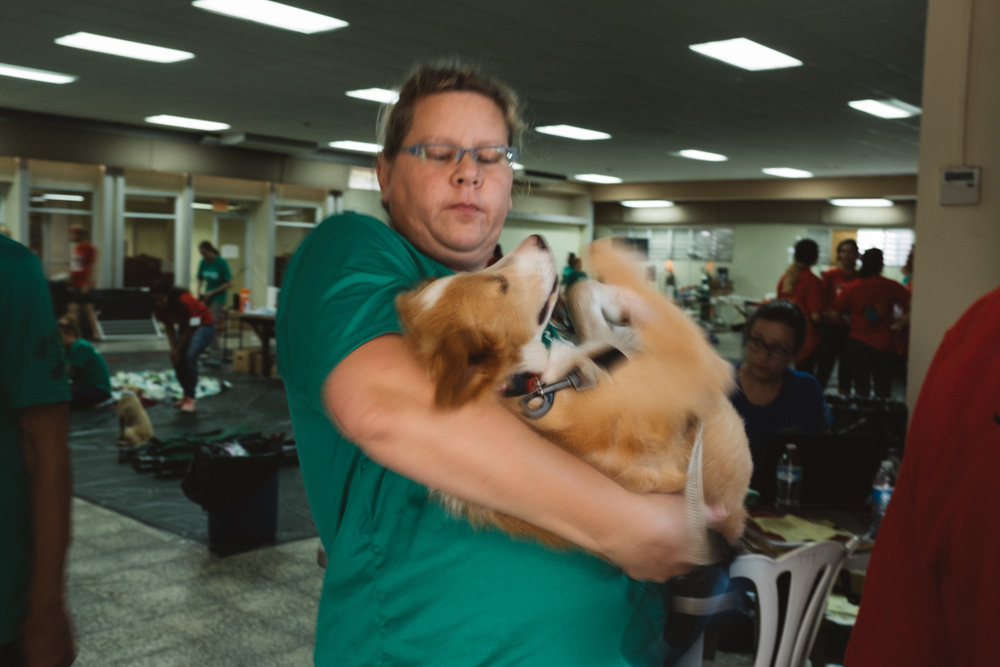 Waking up from anaesthesia, Ceiba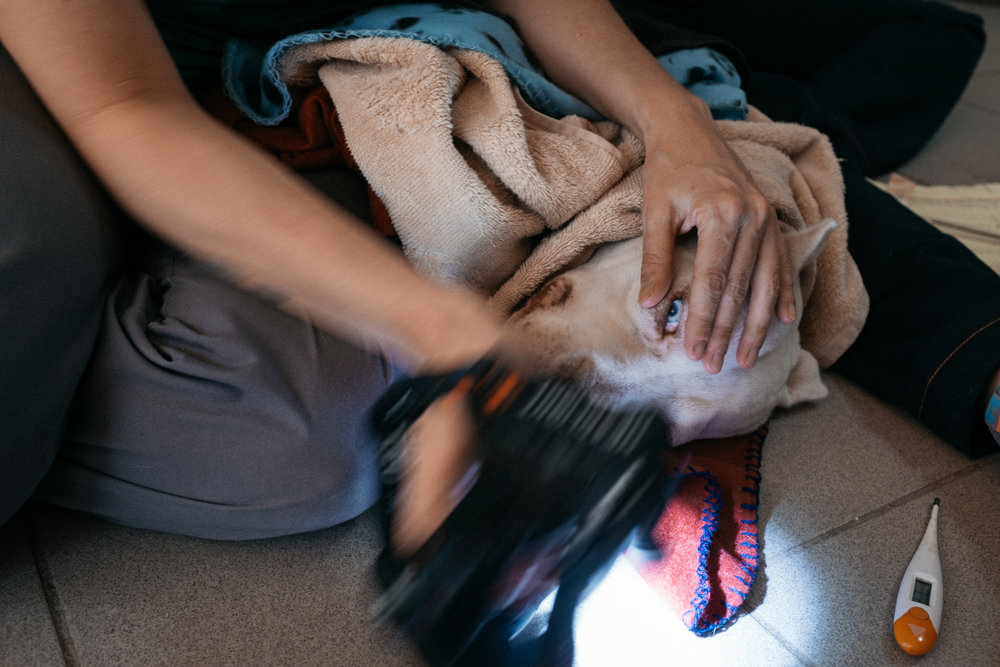 Waking up from anaesthesia, Ceiba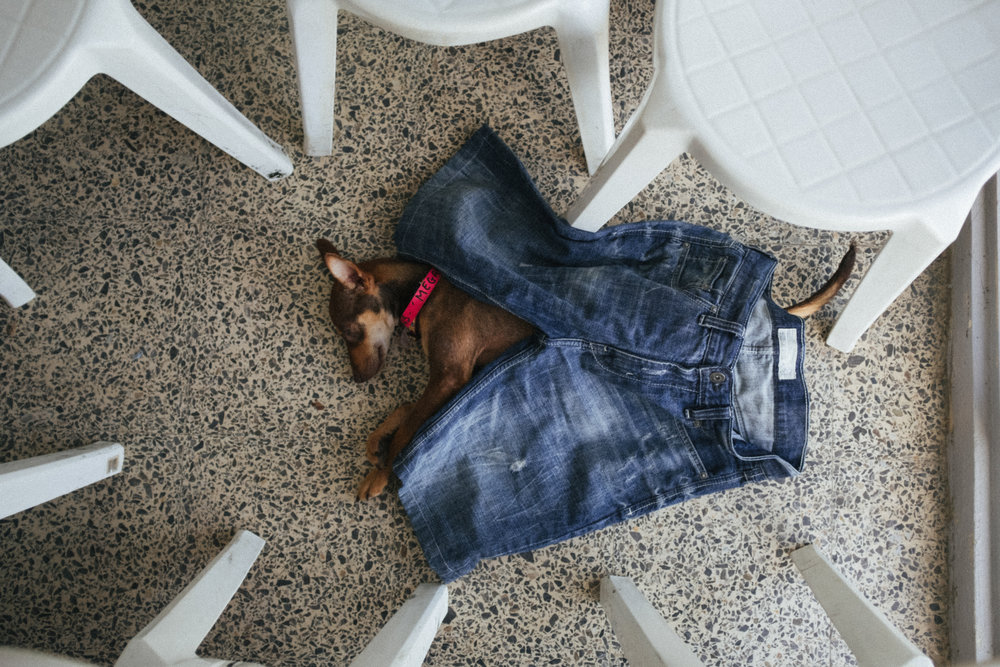 Resting after surgery, Ceiba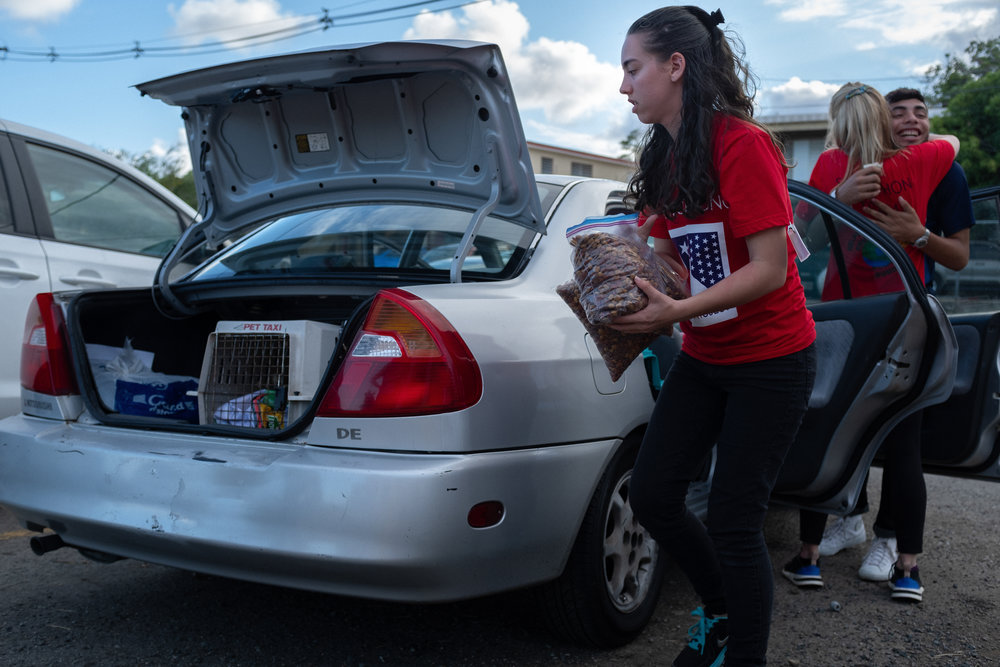 Loading car with supplies, Ceiba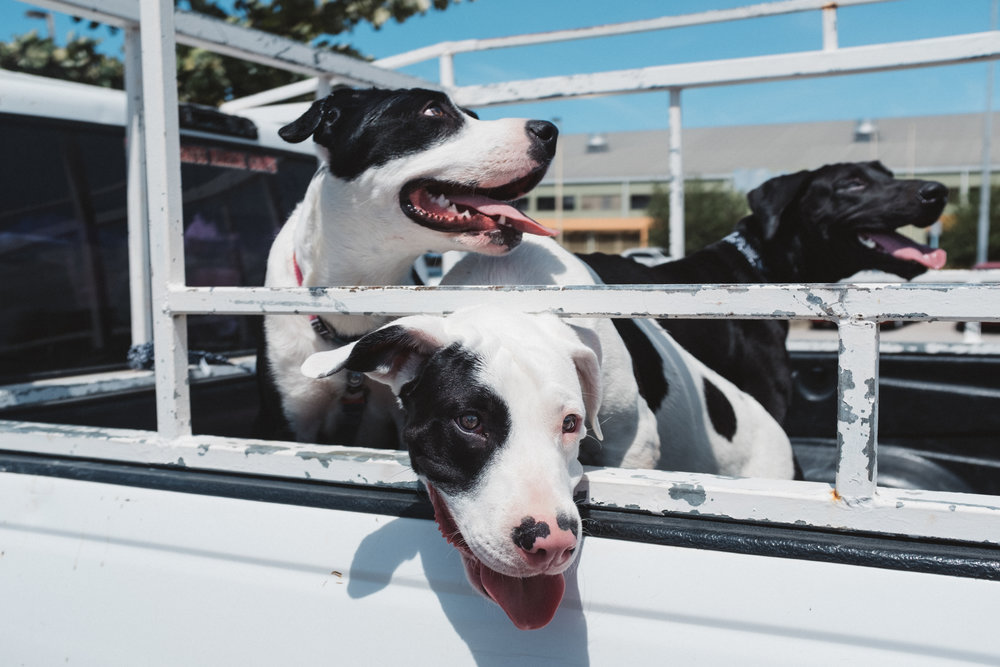 Going back home, Ponce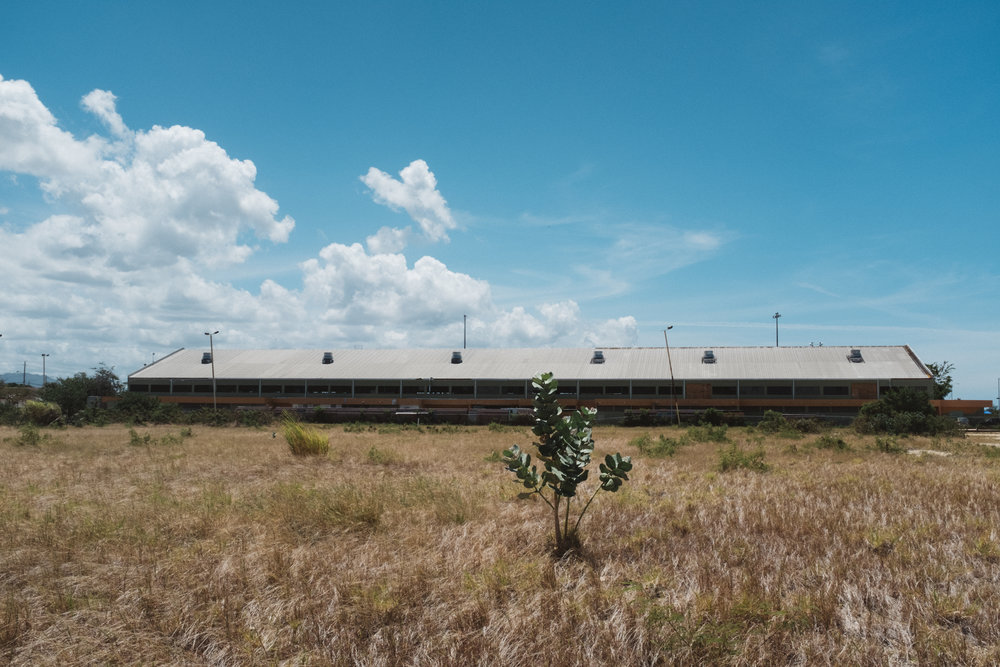 Field and clinic, Ponce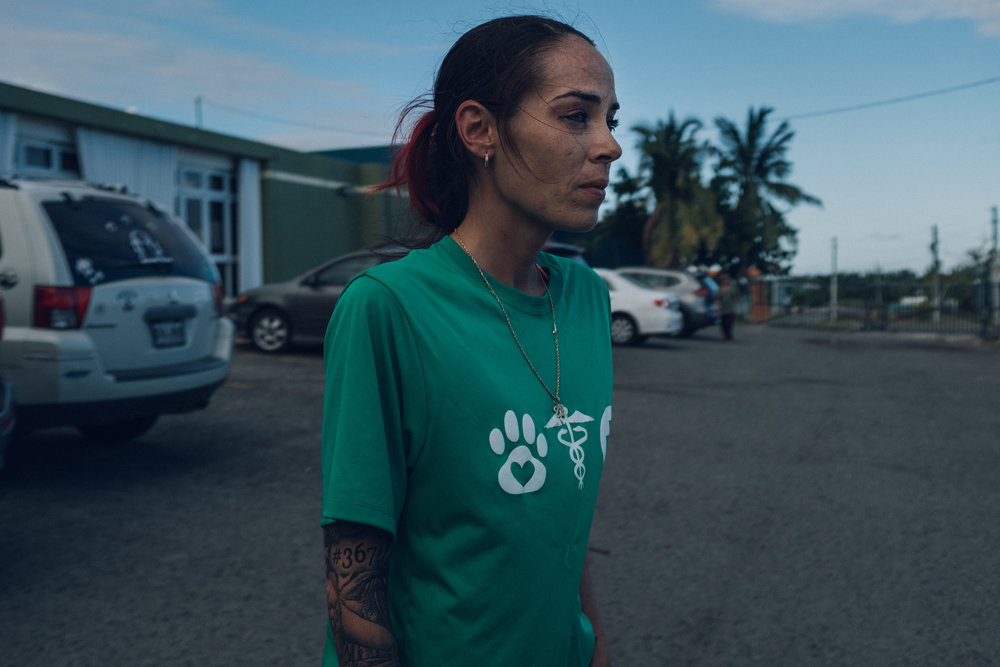 Justine Hill, volunteer, Ceiba