In early 2019, VII Academy founder Gary Knight and wildlife cinematographer and producer Jacqueline Farmer began discussing the inequities women face in the media industry, particularly in storytelling and art that portrays the natural world. They wanted to create a space for women to feel uplifted in this field and gain the resources and tools they needed to succeed in challenging, often male-dominated spaces. The inaugural Nature: Through Her Eyes festival, hosted by the VII Academy, celebrated and highlighted women's roles in the arts, including writers, photographers, filmmakers, as well as camera and sound operators. The festival explored what a feminine perspective means to women in their portrayal of nature and in their storytelling, and why it is important for society as a whole. The event created a space for women's ideas and work that are innovative and important for all audiences to see, regardless of gender, and that express hope for our future storytellers and media audiences.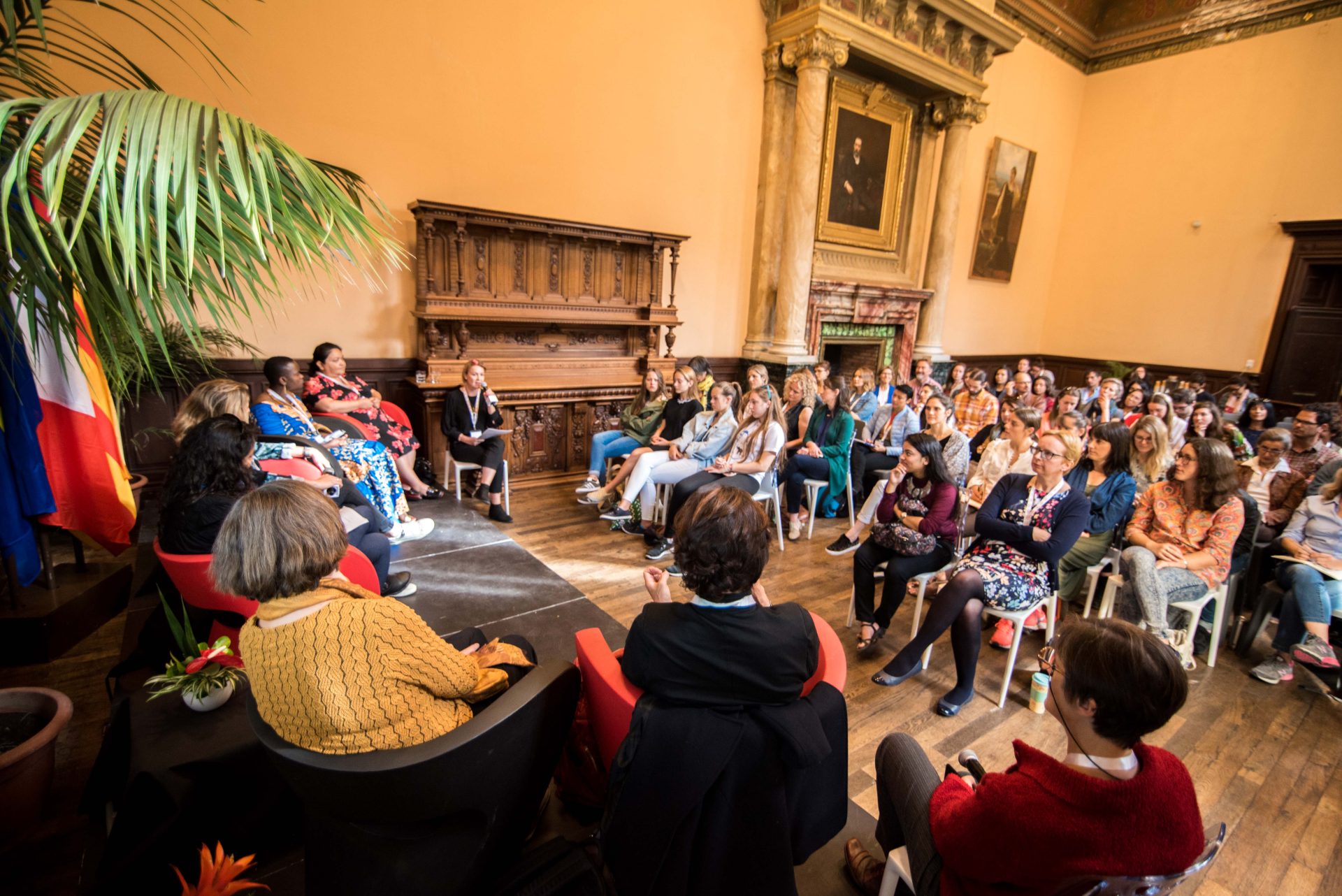 The festival was held in the dynamic city of Perpignan, France, from October 18-21, 2019. Presenters flew in from all over the world, bringing their experience from media, literature, academia and research, and legal and commercial fields. Programming included professional workshops, seminars, film screenings, mentoring, networking events, and panel discussions.
The festival served as a platform for women to share experiences between generations and across cultures, creating a mentorship network for young women entering the profession that will last long beyond the festival dates.
Panelists came from nine different countries (Austria, Belgium, Canada, France, India, Tanzania, United Kingdom, USA, and Vietnam) to share their experience with an audience of women and men from around the world.
Each panel discussion was moderated and translated into both English and French; they explored the wide range of challenges women face in this field and the unique strengths women bring to the table.
The Panels
Be sure to check out this video playlist for the full videos of each of the panels, as well as great conversations with many of the panelists.
Writing Nature: From a Female POV—How it Could Save the World
How do female writers portray nature in works of fiction and essays? How does culture color that perspective? Nature writing has long been the domain of primarily white male writers. Today, women are staking their claim on the genre in original ways.
Panelists: Anne Simon, Zakiya Mckenzie, Valerie Chansigaud, Claudia Casper, Vinciane Despret, Eden Robinson and Bénédicte Meillon
View the full discussion (in English and French):
https://www.youtube.com/watch?v=58kh096C7JY
Women in the Field, Barriers and Solutions
What is it like to be a woman on an all-male shoot? What physical and technical barriers are challenging, and what technical advice do professionals have for women who are starting out? This panel included sound engineers, cinematographers and photographers that addressed a wide range of technical questions and discussed how they've developed unique styles in their work.
Panelists: Sophie Darlington, Eshika Fyzee, Anne Lapied, Gail Jenkinson, Sophie Lanfear, and Justine Evans
View the full discussion (in English and French):
https://www.youtube.com/watch?v=FpYw0JJtk3A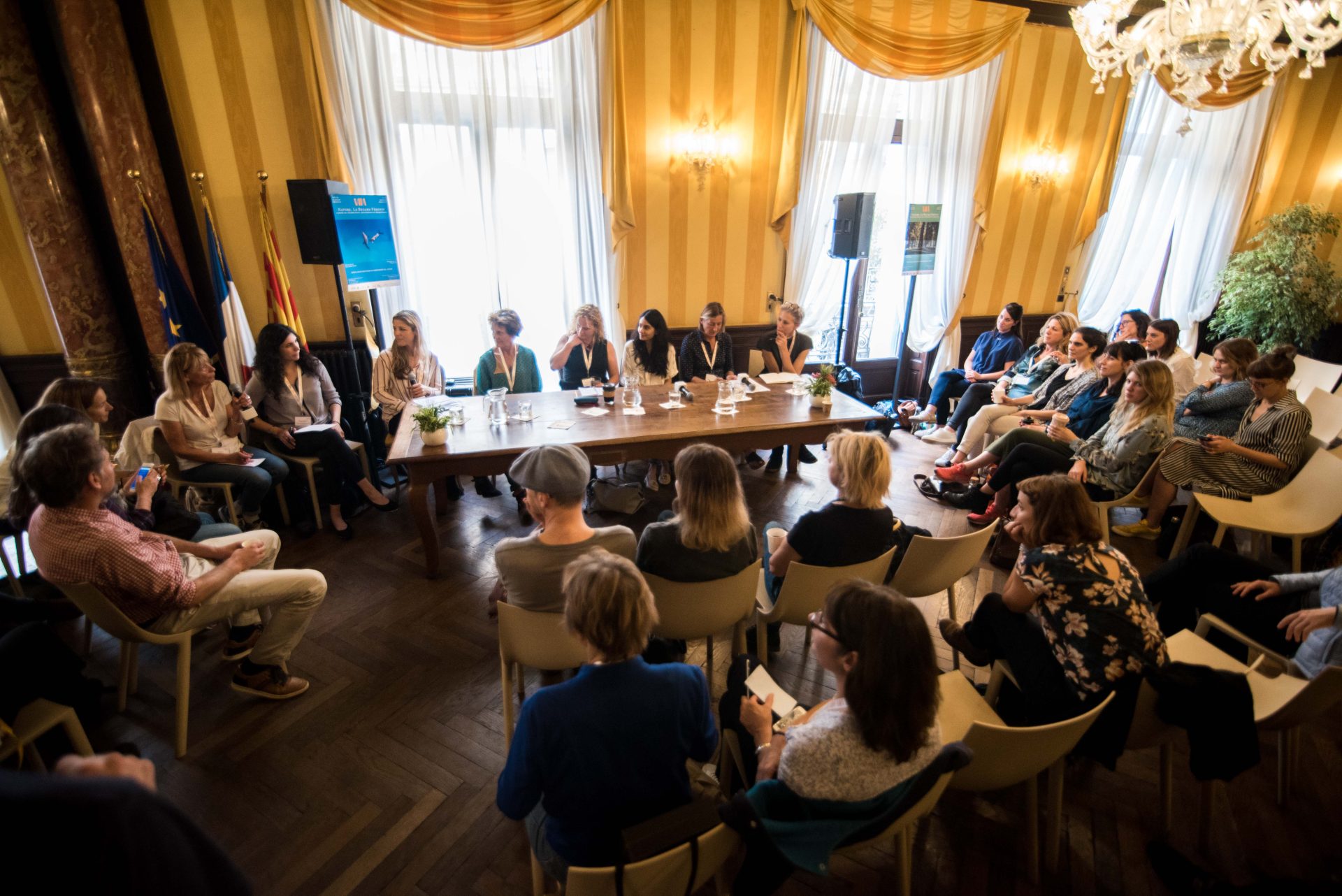 What Could Possibly Go Wrong?
Women photographers, filmmakers, and authors often have an education that lacks any legal training. This discussion was led by two lawyers and offered a basic understanding of rights and contracts. It addressed challenges particular to women—wage parity, sexism, as well as how to fairly negotiate a contract.
Panelists: Michelle Bruce, Astrid Roussel-Olive, Benjamin Sarfati
https://www.youtube.com/watch?v=XgJZ3d81QHk
The Feminine Perspective
What is particular about the perspective that women bring to films, photographs, writing and art about nature and the wild world? Are there subjects that interest women which are not addressed by men? Do women look at the wild world differently? This panel explored the unique, innovative, and often collaborative approach women creators employ in the arts.
Panelists: Arati Kumar-Rao, Valerie Chansigaud, Vinciane Despret, Vanessa Berlowitz, Eden Robinson and Erica Francis Rugabandana
View the full discussion (in English and French):
https://www.youtube.com/watch?v=4YRdiIfQuEM
Inventory and Exchange, the State of Affairs
How can we overcome obstacles to make women's work about nature better funded and more visible? What are the budgets allocated to women in the television industry, the publishing world, and the world of photography? Established industry professionals discussed how they have navigated professional settings and what strategies they suggest for women entering, offering direct pitching and funding advice.
Panelists: Birgit Peters, Paul Zimic, Isabelle Graziadey, Michelle Bruce, Goedele Gillis, Vanessa Berlowitz and Anne de Malleray
https://www.youtube.com/watch?v=h1dXyvFuC4I
Film Screenings
Throughout the four days, the program included multiple film screenings open to the public as well as the festival audience. In total, 550 people participated in these screening events at the Cinema Castillet.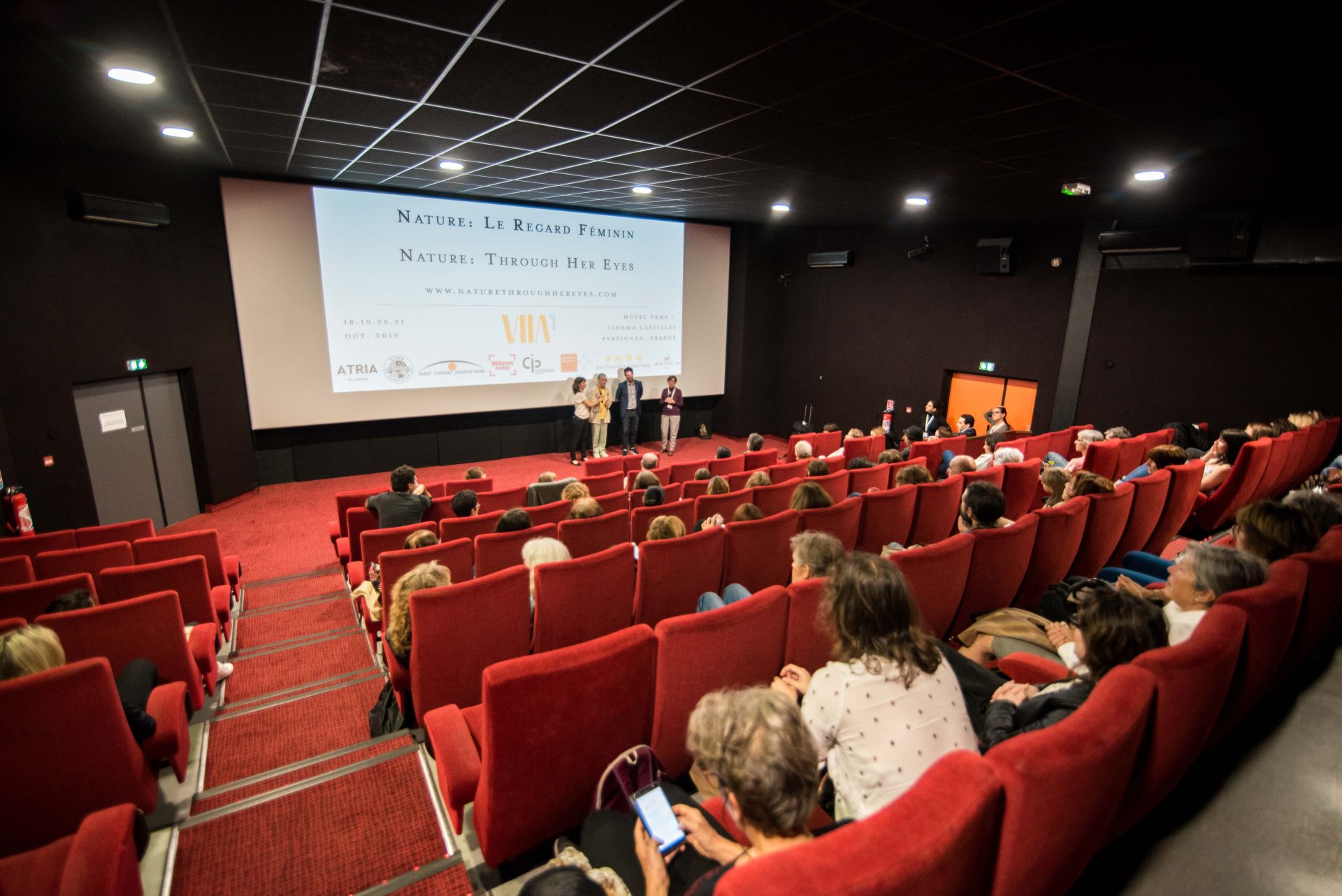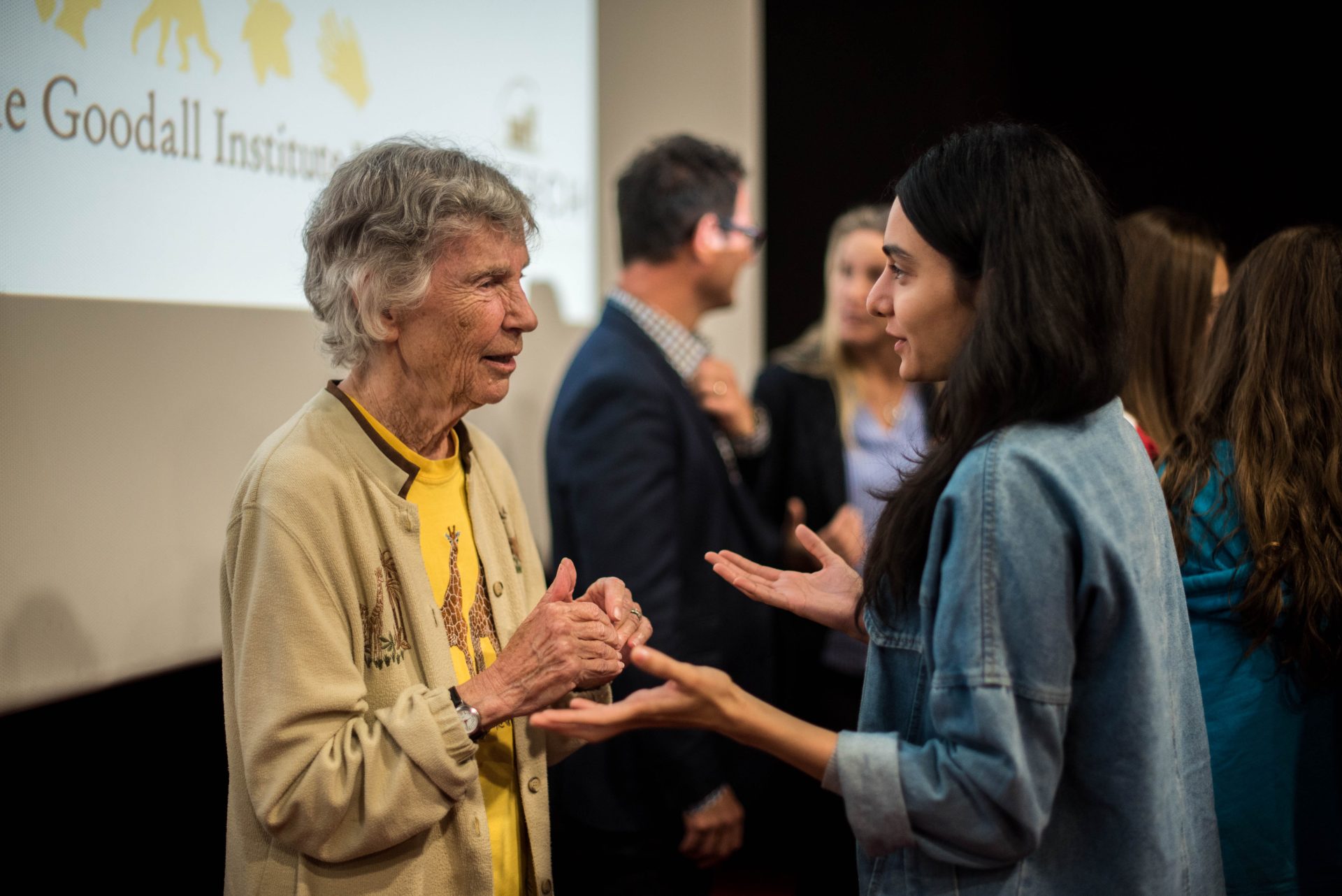 School Screenings
240 children from CM1, CM2, CE2 and 6eme (college) from Perpignan and the local area attended a free screening of "Malin Comme une Chèvre" with local filmmaker Emma Baus.
Festival and public screenings
"The Woman Who Loves Giraffes" received a standing ovation for the 86-year-old Canadian protagonist Anne Innis Dagg.
The episode "Frozen World" from the Emmy award winning Netflix series "Our Planet" was presented by Producer and Director Sophie Lanfear.
An episode from the BBC's "Dynasties" series, "Lions," was presented by the British cinematographer Sophie Darlington.
"Mbudha, sur la route des champanzées," an award-winning film about the discovery of a previously unknown group of chimpanzees in Congo, was presented by cinematographer and director Caroline Thirion.
"Aigle et gypaètes" is a 90-minute feature about the birds and wildlife of the French Alps, presented by French director Anne Lapied.
Short films
"In Zebedee's Memory": a short conservation film through the lens of puppets, presented by Vietnamese director Linh Luyen.
"Vinu – The Elephant Keeper": a short film about the dying mahout tradition in India, presented by cinematographer Eshika Fyzee.
"Bo Bo and Mo Mo": an elephant conservation short by Burmese director Zarchi Damloup.
"Nature Love Stories": an experimental short about ocean life by Australian director Michaela Skovranova.
"Le tombeau des épuisés": a short by French director Marion Feranandez.
"I follow rivers": an experimental, poetic short by Alaskan director Tessa Schmidt.
Be sure to check out www.naturethroughhereyes.com for more information about the 2019 Nature: Through Her Eyes festival.