Imagine: Reflections on Peace
A book, exhibition, education, and advocacy project. In this signature collection, world-renown journalists and authors take us into societies that have suffered searing conflict—and survived. Funded by the Gross Family Foundation.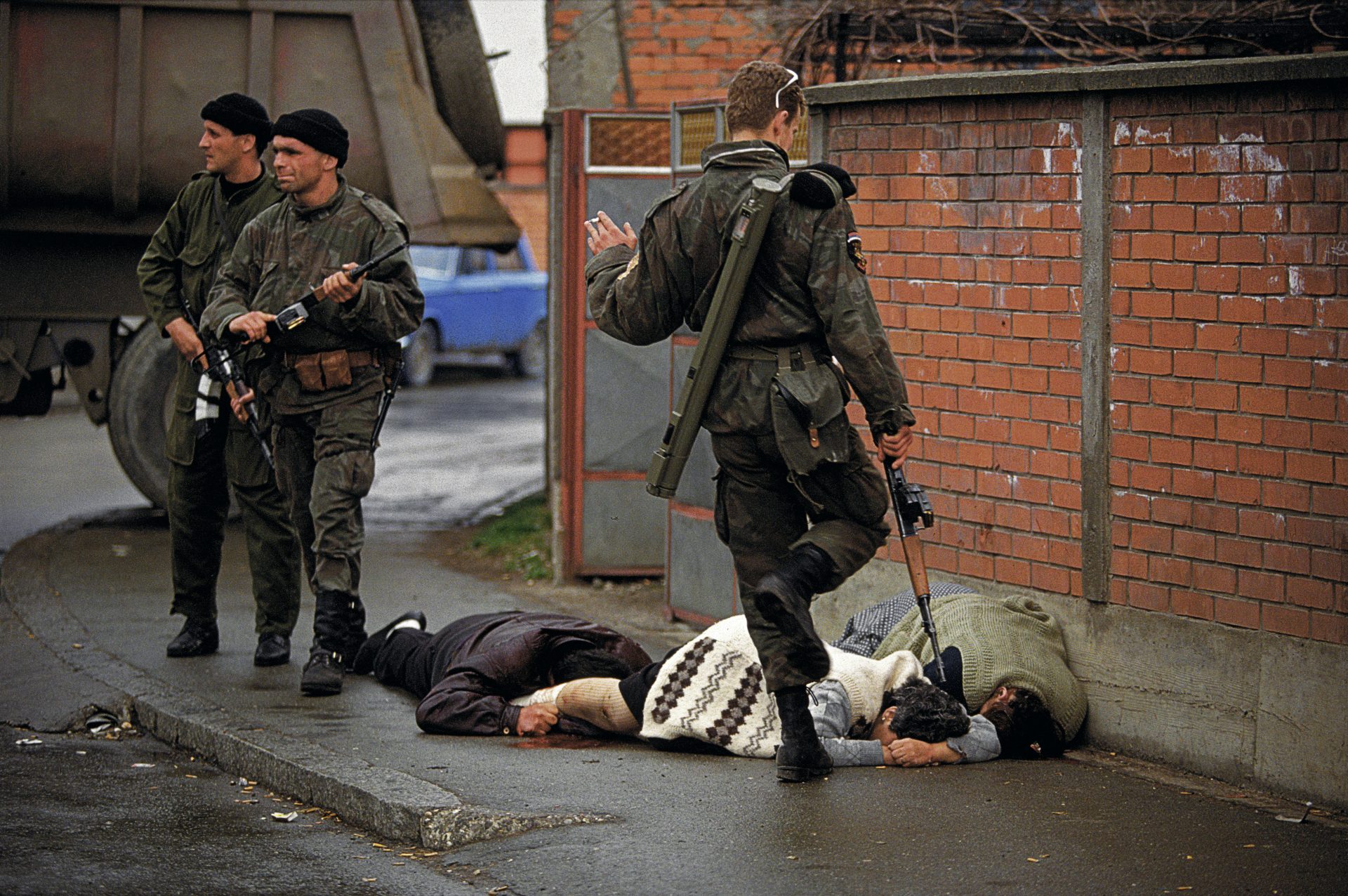 The Project
When battlefield prowess and political manipulation are not enough to achieve peace through victory, we summon our best and brightest to negotiate an end; we celebrate peace settlements; and we give prizes, if not to victors, then to visionaries. We exalt peace as a human achievement, and justly so. But the reality of peace is flawed. The rewards of peace are elusive for the men and women who live in the post-conflict societies of our time.
Why is it so difficult to make a good peace when it is so easy to imagine?
That is the question behind Imagine: Reflections on Peace, published in October 2020. In this stunning collection, world-renown journalists and authors take us into societies that have suffered searing conflict—and survived. Photographic essays make the stakes during war and peace grippingly palpable. Compelling backstories about negotiations, tales of survival, and accounts of the search for inner peace make the big picture personal. They also reveal the complexities of redemption and rebuilding in Bosnia and Herzegovina, Cambodia, Colombia, Lebanon, Northern Ireland, and Rwanda. With added insights from scholars and practitioners, the book offers a rare and fascinating glimpse into the unvarnished story of peace and a window into what it takes for societies and individuals to move forward after unspeakable brutality.
Imagine: Reflections on Peace
Published in English as Imagine: Reflections on Peace and in French as Imagine: Penser la Paix.
408 pages, 200 photographs.
Available online and in selected bookstores across the US, UK, and Europe now.
Price: $49,95 | £39 | €45
"The searing images and moving essays contained in this book teach us much about the lessons of history, the costs of war, and the overlooked challenges of achieving lasting peace. The honesty and introspection of the contributors also reminds us that the gaps that exist between peoples can be bridged; wounds can be healed; hatreds can be dissolved; and the once unthinkable can become reality—if there is a willingness to pursue dialogue and embrace our common humanity. Imagine: Reflections on Peace is a timely and important call to action."  

— Former Secretary of State, Madeleine K. Albright
Imagine: Reflections on Peace in Exhibition
The signature exhibition, taken from our book Imagine: Reflections on Peace, is touring Europe and the United States and has recently been exhibited at the United States Institute for Peace, the National Museum of Bosnia & Herzegovina, and the Museum of the International Committee of the Red Cross. 
We hope that if you visit the exhibition, you will be inspired to engage and create impact by exploring our sharing of our resources.
The Cultural Center for Decontamination (CZKD), Belgrade, March 2023
The United States Institute of Peace, Washington DC., 2 June – 1 August 2022
The National Museum of Bosnia and Herzegovina, Sarajevo, 22 April – 31 July 2022
The International Red Cross and Red Crescent Museum, Geneva, Switzerland, September 2020 – January 2021
Bayeux-Calvados-Normandy Award, Bayeux, France, 5 October 2020
Imagine: Reflections on Peace Curriculum
A major part of the initiative behind the Imagine project is to reach the youth of today: the next generation who, whatever their place in society, can be the force to make change, cast off old attitudes and prejudices, and create new thinking that will impact an open, more tolerant society.
We have developed two curricula with our partners Generation Human Rights (GenHR) and The Educator's Institute for Human Rights  (EIHR) — available for free.
The Imagine: NextGen Voices Reflect on Peace Curriculum is designed as a series of modules based on youth-led interviews in numerous post-war countries. Country-specific contexts are used as a foundational springboard to explore larger ideas around conflict resolution and prevention to create peace in the aftermath of war. Common themes are woven into each of the modules, including inner and outer peace, rights and freedom, dialogue and conflict resolution, identities and othering, and more.
This multimedia-based curriculum aims to develop and deepen students' understanding of the complexities of peace through a robust youth-centered curriculum with an emphasis on narratives of post-conflict life, transitional justice, and peace.
The curriculum has been built around a year-long project in which Generation Human Rights youth fellows have conducted interviews with peers from the countries covered in the book, Imagine, Reflections on Peace. The interviews explore the commonality and diversity of youth experiences growing up in the aftermath of war, diving deeper into what peace truly is and whether it exists in the aftermath of war.
Funded by the Gross Family Foundation
The VII Foundation is grateful for generous funding from the Gross Family Foundation, which supports the production of this project.