VII Interactive: The Original Masterclass with Stefano De Luigi & Maciek Nabrdalik
Photographs by Pooyan Tabatabaei / VII Masterclass in Barcelona
May 16, 2020 – August 8, 2020
A long-form course based around three (two-day) interactive group seminar sessions interspersed by two long interactive workshop sessions. This course includes group seminars with the tutors, one on one tutorials, and lectures by prominent guests. 
The Irreversible. By Maciek Nabrdalik
The Irreversible is a record of face-to-face encounters with forty-two German Nazi camp survivors worldwide. The project features experiences, thoughts, and feelings of people of various nationalities, religious creeds and reasons for imprisonment. 
The Irreversible started with an assignment for the Smithsonian magazine. I was working on a story about the conservation efforts at Auschwitz-Birkenau Museum. On the third day, at the gate, I saw an obituary notice informing about the death of a former prisoner. Next day there was another one. At this moment I realized that we are the last generation who can approach the survivors to talk with them and ask questions.
I invited a journalist, Agnieszka Kulawiak, to join me in the project.
Of course, we knew that most of them had already been interviewed by various organizations or by the Auschwitz Museum employees. Not all of them had a chance to share their story, though, and they were at different moments in their lives now.
Many of them have admitted that their recollections of all that happened are not as vivid today because the fact that they have survived has softened their memory and they prefer to enjoy what is left of life. And yet it is difficult to escape something that lies so deep and returns uninvited in dreams, fears, and associations. This, they say, is irreversible.
Our conversations often touch upon this unwanted memory. Together we realize that the camp has left in them a trace that cannot be erased. They will not forget it, but it is less certain that we won't. We have decided, then, to face the truth not only in its historical aspect, but also, and above all, in its human dimension: the truth about them, former camp prisoners, for whom the camp was a curse, a lesson in humility, or a test of humanity. They answer some questions here for the first time; they leave other without an answer. These meetings are unforgettable and we now carry them in us, they have shaped us to some extent. And even though at times we would like to detach ourselves from these camp histories, we must not lose time.
Our work is an attempt to give faces to the victims rendered nameless by the impersonal tone of the Nazi camps statistics while the voices of the survivors breathe individuality and humanity into the detached historical accounts.
The Encounters
In the beginning, Ms. Jadwiga Dab­rowska from the Auschwitz-Birkenau Museum helped us, directing us to a few prisoners she was in touch with and they led us to others. Agnieszka and I attended an­niversary celebrations of different camps and we met our next interviewees in that way.
In 2012 I received a grant from the Ministry of Culture and National Heritage in Poland to continue the project worldwide.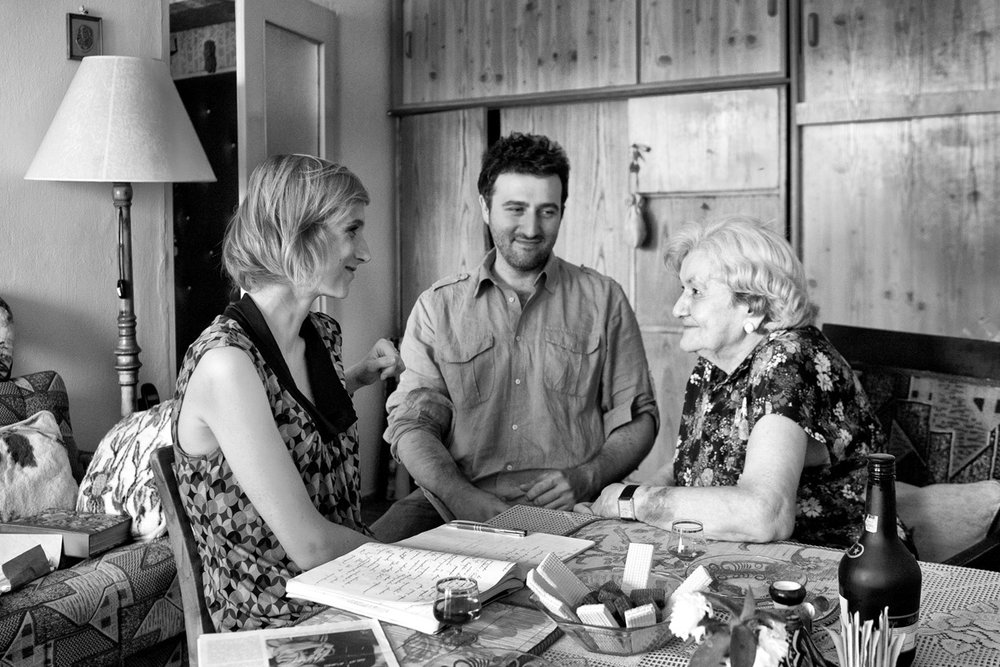 We had not prepared any agenda before. The meetings usually lasted for a few hours but sometimes they took a few days.  It's not important how much time we spent with our interlocutors – whenever we were with them, we felt it was too short.
Over four years we met 42 prisoners from different camps, living in different countries, of different nationalities and religious creeds. We traveled 80,000 kilometers and recorded almost 100 hours of conversations.
I never wanted to turn even a part of our meetings into a photo session. I knew such an atmosphere would make the communication more difficult, that it would distract and cause a tension and discomfort. I didn't want to show what they looked like and how they lived. Their honest emotions were a sign of their trust, and I tried to keep them – every tear, fear, everything that a face is not able to hide, even after so many years. I wouldn't be able to give directions to people who are coming back to those moments with their whole being. 
I painted a lens filter black, leaving a small clear hole in the center. My sitters were placed before a black backdrop and illuminated by natural light during our interviews. In this way, the lens focused solely on their faces, which emerge from the darkness.
We have seen a number of publications and books devoted to the Nazi concentration camps, but we did not want to repeat the stories already told. We did not want to appeal only to individual historical memories. There are institutions that record the accounts of the witnesses with great diligence and care, and with a sense of historical importance. We realized that what mattered to us more than accounts from the camps were reflections, feelings, and current understandings of the past. We quickly understood that for the former prisoners, the camps did not come to an end on the day of their liberation. They have persisted inside their mind with the same destructive force.
In creating this book, our goal was to come up with a new structure – one that would be timeless and that would tear down stereotypical assumptions. We are not speaking in our own words, but employing the stories of our subjects. What they are telling us comes from the present. Each story strikes us with its timeliness. We wanted to show how profound the experience of the camp is for those who survived it and how it affects their relationships, perceptions, psyches, viewpoints, and day-to-day functioning. We wanted every person who holds this book to find in it the question that they themselves would perhaps want to ask of a former prisoner.
The design of the book, created by Ania Na??cka from Tapir Book Design, breathed fresh energy into us. There is little that can provide more motivation than the visualization of the guiding thought, of the soul of the project. 
At the same time, we are aware that this is an incredibly difficult subject. The very notion of a face-to-face encounter brings with it the weight of the documentary genre. The idea that the cover is made of sandpaper, unpleasant to touch and bringing to mind something rough and injurious, seemed appropriate. This is not the book to tuck in amongst others. Just the touch itself might discourage you from further contact. This is why we think that the subject as much as the album itself deserves a special place in the homes and minds of those who reach for it.
In 2014 the National Center for Culture in Poland and The Press Club of Poland co-published the school edition of The Irreversible, which was donated to chosen institutions, schools and libraries in the countries we visited while working on the project.
The Exhibition
The traveling exhibition features audio accounts of the prisoners that serve as the commentary to the photographs. We wanted to reach the younger generation. It seemed difficult to talk about Camps with people whose grandfathers were born after the war. In order to connect our subjects with those younger visitors, the voices accompanying the portraits are of the same age as when the subjects were in the Concentration Camps.