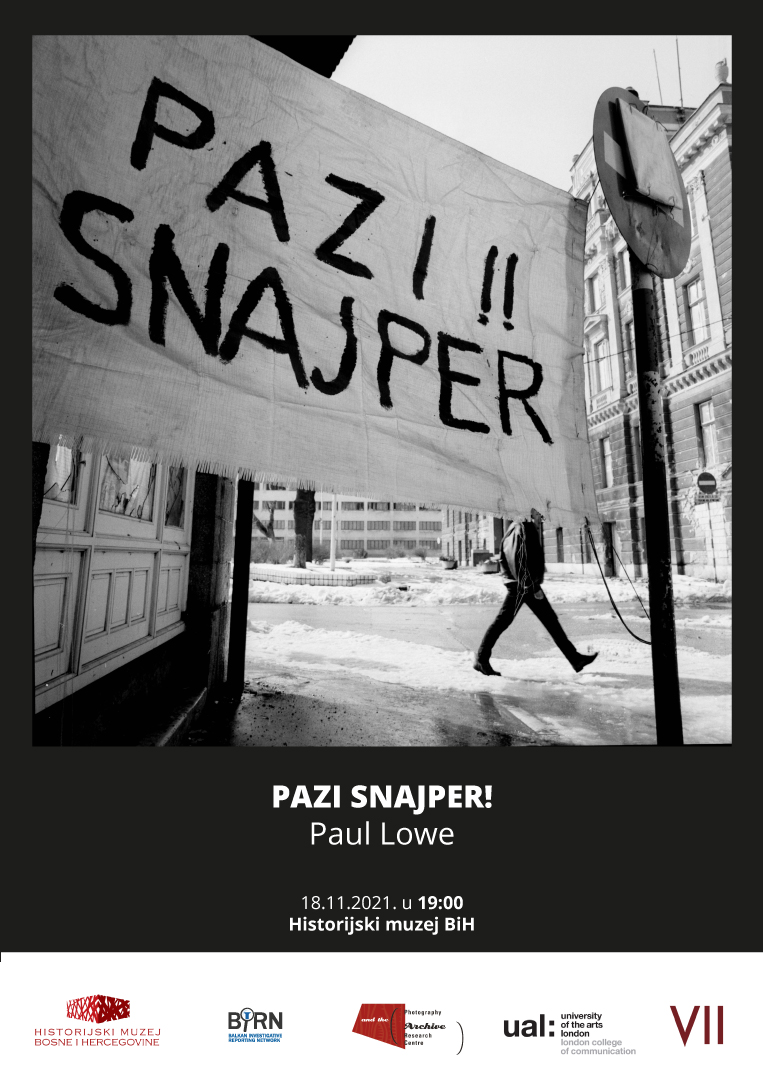 "Sniper Alley" became one of the most infamous terms used in the reporting of the conflict in Bosnia Herzegovina and the Siege of Sarajevo. Its epicenter was in and around the immediate vicinity of the Historical Museum of Bosnia and Herzegovina. The area of Zmaja od Bosne from the Museum, past the Zemajski Museum, and onto the Parliament building, was particularly vulnerable as the intersections along the wide street were overlooked from the tower blocks in Grbavica across the river Miljacka that formed the frontline in the area.
This exhibition engages with the legacy of the sniper attacks on the city through a range of media, including a 3D printed scale model of the immediate vicinity of the Historical Museum, an expert witness report on sniper attacks that was used as evidence at the International Criminal Tribunal for the Former Yugoslavia, archival photographs from the war including a new multimedia piece by Paul Lowe, and works by artists reflecting on the impact snipers had on the lives of the citizens of the city. The research and production of the exhibition was supported by a grant from the Balkan Investigative Reporting Network.
Today, more than twenty-five years after the end of the siege, the citizens of Sarajevo are still reminded of this time of terror and fear as they walk along Zmaja od Bosne and pass by a small stone monument, inscribed on which are the words "Never to be forgotten and never to be repeated. Nermin Divović 1987-1994." The exhibition opens on the anniversary of his death on the 18th November, 1994, and will be opened by Trevor Gibson, who was a UN fireman during the siege who witnessed Nermin's killing and helped recover his body.
Concept, research and curation: Paul Lowe
Co-Curator: Elma Hodžić
Production: Elma Hašimbegović, Historijski muzej BiH / History Museum of BIH
3D Modelling and Architectural Research: Projekt V Arhitektura d.o.o i SNEA
Photographers: Ron Haviv, Rikard Larma, Paul Lowe, Enric Marti, Gervasio Sanchez 
Artists: Paul Coldwell, Adela Jušić 
Balkan Investigative Reporting Network (BIRN) funded the research into the ICTY archives and for the production of the 3D model.
The project was also supported by the Photography and the Archive Research Centre, University of the Arts London, and the VII Foundation. 
After the official opening, Trevor Gibson will hold an auction of exclusive film and music memorabilia donated by the stars of Scream For Me Sarajevo, such as Bruce Dickinson and Fedja Stukan, as well as donations received from Laibach, Dubioza Kolektiv, and others. The proceeds of the auction will be donated to the museum.