This workshop is now sold out.
Instructors: Anush Babajanyan, John Stanmeyer
Location: Istanbul, Turkey
Cost: $2,200 USD
Duration: 8 Days
Class size: 16
Skill level: All levels
Scholarships: No
About the workshop
During this eight-day workshop, each participant will photograph every single day, creating a story from this ancient city, with the support of John and Anush, who have years of experience in Istanbul. In addition to practical work, lectures on narrative development, the language of photography and the art of visual storytelling, there will be discussions about today's constantly changing field of photography.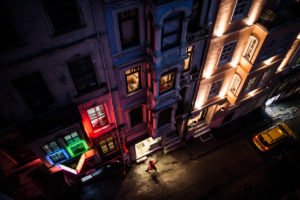 The participants will spend a lot of their time photographing in the city, together with local fixers, exploring the streets and homes of Istanbul, meeting strangers, and crafting their stories. The participants will continually return to the workshop location to review their images together with John and Anush, understanding how their story is moving forward and the directions they should be taking.
The photographers will present their newly created stories to the whole group on the last day of the workshop in a closing event, where fixers are invited, as well as anybody who contributed to the building of the story.
The creation of a concise body of work is one of the aims of this workshop, but the most important goal is the learning experience itself, and the beautiful process of overcoming the challenges while making a story happen.
This workshop will teach but also inspire you to become a better photographer and visual storyteller. We also believe in the importance of creating and expanding our community by sharing intimately and candidly our experience from being in the field for decades.
Photographers of any level of experience are welcome.
Preferred software – Lightroom or another quality digital asset management application to make the flow of editing and reviewing run smoothly. We can help answer questions or direct participants to various options.
Testimonials
Anush Babajanyan
"Anush is an incredibly warm person, that made me feel so welcome and comfortable during the workshop with her in Sri Lanka. She is able to push you, and really inspire, in an environment where a lot of learning happens. In the 10 days working with her, Anush was able to transform me, as a photographer and storyteller. I discovered how I see the world, with her guidance, and am now able to present that through photography." – Jordan Sirek
"Anush, you offered an ideal blend of encouragement, honesty, support and most importantly, professional criticism in our Sri Lanka workshop. You have a gentle way about you that allowed me to come into my own growth as a photographer and as a human. You are patient beyond words, and you juggled everybody's questions with equality and respect, while never letting on if you were tired or possibly frustrated with hearing a question over and over. I sincerely hope I'll be able to join you for another workshop, as I'm sure we'll pick up where we left off and you'll push, bend, stretch me even further." – Tracy Barbutes
"In February 2018, I had the pleasure of attending the John Stanmeyer Storytelling Workshop in Sri Lanka facilitated by John Stanmeyer and Anush Babajanyan. It was my first time attending such an intensive workshop, and I was extremely anxious. Anush not only alleviated my anxiety, but elevated my experience from day one with her considerate and immediate responses to my questions. Her thoughtful insights on my project ideas helped guide me on my journey before even arriving. From the beginning planning stages to day-to-day troubleshooting to the late night editing sessions, Anush was an outstanding mentor—thoughtful in her criticism, giving of all her time and energy to ensure the success of the students, and dedicated to elevating the workshop experience by being present and available. There is no match for her professionalism, talent, and warm, sincere nature. I look forward to working with Anush again one day. " – Ghadah Alrawi
John Stanmeyer
"John Stanmeyer is the standard to which I now hold all a teachers. I've attended three workshops led by John over the past years and each time I come away with a greater understanding not just of my ability to form stories visually, but also in the way these pieces fit into the bigger world. John is incredibly understanding and patient, truly looking to see what personally motivates each individual. He has the ability to read his students and push them in a way that works best for them — something that is truly only found in great teachers. He cares about being a guiding presence for the inquisitive soul, but also respects each person's individual drive, abilities and vision. The fact that I learn both about myself as well as the stories I've photographed speaks volumes for the workshop experience with John, and I am truly grateful for his guidance that has completely changed the course of my photography career." — Schmoo Theune
"I have attended John Stanmeyer's workshops now three times. I go back, because I love the intensity and focus that John asks from his participants. It's an amazing opportunity to find and tell a story where you have the experience of John to help guide you through all the many pieces of visual story telling. From assigning you the right fixer, to helping with composition and editing, John is skilled at pushing you to do more and better, until in the end, you leave with something strong and powerful. His workshops always deliver an end product beyond what I imagined I could ever create. John also turns his participants into family. The workshop environment he creates, binds us together in a deep appreciation for each other's work and our need to visually tell stories. This combination of hard work, a great product, and nurturing community is a special formula not to be missed." — Brenda Bancel
"I was skeptical when John told me how transformative previous workshops had been for participants, several of whom were returning for a second or third time by joining us in Yogyakarta, but he was absolutely right in a way I couldn't have imagined. John had suggested I work on a story about the waria, the muslim transgender community in Indonesia, given my legal background and interest in global human rights issues. I was up for the adventure and soon found myself following along as my trans friends busked under a bridge, danced in a nunnery and gossiped while putting on makeup. Throughout the course of the workshop, John helped me look beyond my own limiting beliefs through both practical and theoretical feedback on visual storytelling. I pushed myself as a photographer and expanded as a human." — Amisha Patel
"Attending a Photographic workshop mentored by John is not just a photographic workshop. Yes he will lecture about keeping lines straight, filling the frame and exposure. But what he is really helping you to understand is the relationship with the subject you are photographing. We all bring a piece of the puzzle to the images we create and he pushes you to understand that vision. Every trip with John helps me be a better photographer, both with technical expertise and passion for the story I want to share. I have seen him work with all levels of photographers and we all offer something to the story and he nurtures that vision. I have had four such adventures with John over the years and look forward to many more." — Dave Weathers
Terms & Conditions
Please read our Terms & Conditions and Cancellation Policy carefully before enrolling in a workshop.