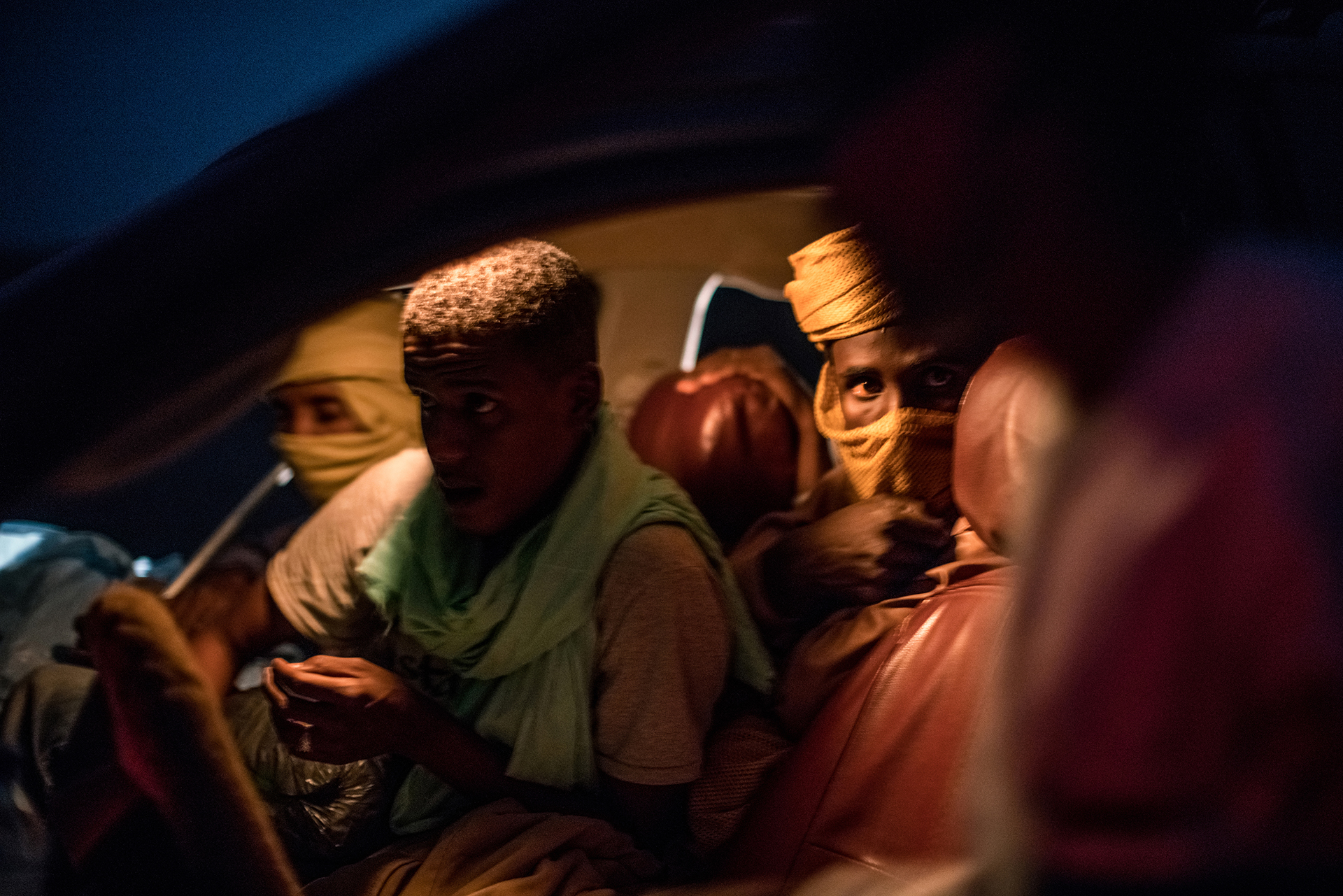 Europe's migration crisis isn't over — it's just beginning. With net immigration expected to exceed 1 million per year for the next five decades and xenophobia surging, European leaders are grasping for new ways to slow the influx. So far, their efforts have included tighter rules and enforcement at home, as well as multibillion-dollar development projects and support for local militaries and governments in Africa. This investigation was first published in Foreign Policy and received the 2018 Robert F. Kennedy Journalism Award in the New Media category.
Highway to Hell
A historic smuggling hub through which as many as 13,000 migrants passed each month in 2016, Agadez has been the site of a recent crackdown on human smugglers after the E.U. struck a $635 million deal with Nigerian authorities to keep a lid on migration. Now the route across the Sahara — already among the most deadly on Earth — is more treacherous than ever.
My Smuggler, My Savior
These smugglers are migrants' only chance of making it safely across the Sahara. They're also outlaws engaged in a deadly game of cat and mouse with Niger's military.
To make the 600-mile journey from Agadez, an ancient Nigerien caravan city that has grown into Africa's most notorious human-smuggling hub, across the Sahara to Libya was to risk death at the hands of bandits, terrorists, and the elements. Then in 2015 the journey became even more perilous. "The army started hunting us," says Adji, who at 32 had been ferrying migrants to Libya for nearly 15 years. "They are even shooting at our trucks."
The EU-funded crackdown on Niger's smuggling industry didn't stop the flow of Libya-bound migrants. But it did force drivers like Adji to take new and more dangerous routes across the Sahara. Now the cost of crossing to Libya has skyrocketed, Adji says, and for the right price there will always be someone willing to go.
The Paradox of Prosperity
Europe is spending billions of dollars to jump-start Africa's poorest economies. But that may just accelerate the exodus.? ?
Much of the money has been funneled into ambitious development projects? ?like the flagship cashew processing plant where Abdoulaye Traoré and roughly 200 other Malian laborers worked until they ran out of raw materials.? ?But the story of the Malian cashew factory — which was still sitting idle five months after it first ran out of raw materials — highlights the immense challenges that await European policymakers seeking to remake the poorest countries on Earth. It also exposes a false but largely ignored assumption: Better jobs and more income, at least in the short and medium term, don't typically relieve migratory pressures in desperately poor countries; they increase them.
Like most of his friends, Traoré had long dreamed of migrating to Europe. Also like them, he lacked the resources to make it there. If that money suddenly appeared though, Traoré knows exactly what he would do: "I would save money and go to Europe."