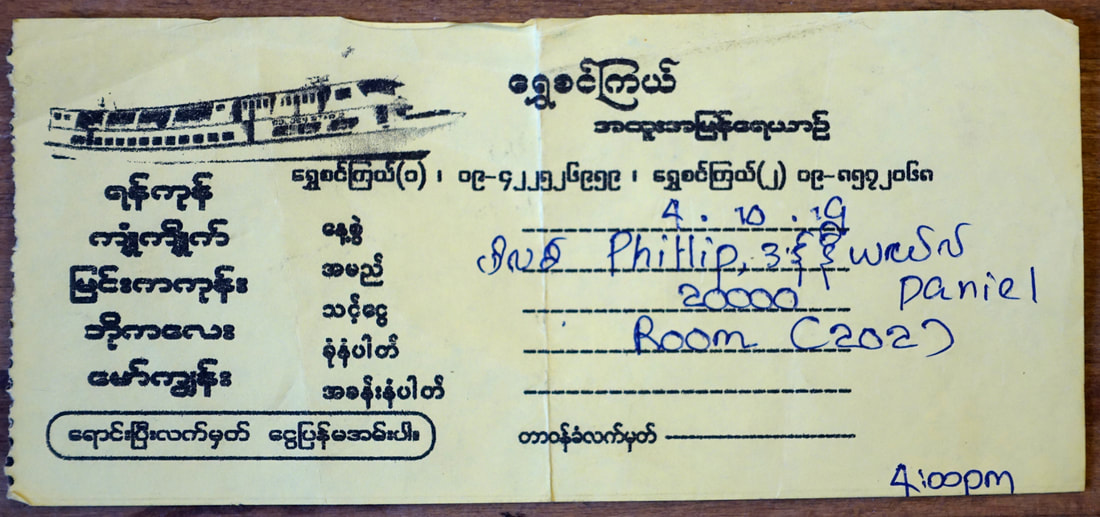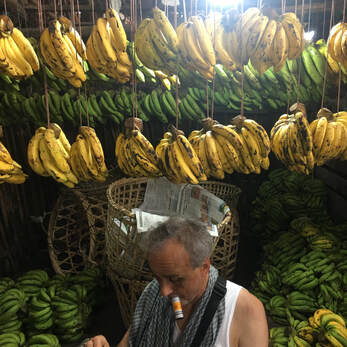 The aim of the workshop, supported by Myanmar Deitta and the VII Academy, was to introduce the participants to the discipline of street photography and involved a mix of shooting sessions, in-depth theory, with particular attention paid to the analysis of the late Robert Frank's contact sheets, and in-depth critiques of the participants' field work.
Here, for your perusal is a taste of the week, including the testimonies of participants as well as images made by participants (thank you!) during classroom sessions and installation of the exhibition.

The Participants
Aung Zaw Myo
​Khin Kyi Htet
Nyein Su Wai Kyaw Soe
Rita Khin
​Shin Moe Myint
Shwe Wutt Hmon
That Paing Dawe
Tin Htet Paing
Yu Yu Myint Than
Kaung Swan Thar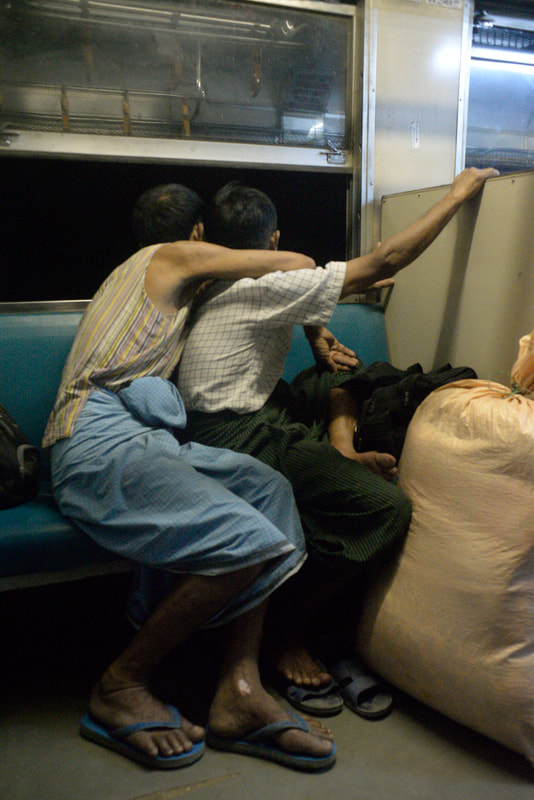 "I thought that I'd shot everywhere in the streets of Rangoon. They didn't interest me any more, however, during the first day of this workshop, I learned how wrong I was. Rangoon's streets came alive again.
Philip and Daniel taught us how simple street scenes could offer wonderful pictures and shared working methods which could yield a great photograph with energy and emotion in it.
We learned that the light, movement, dead space and placement of subjects within frame could be controlled by moving ourselves around the scene and bending our knees.
The effort they put in from start to finish was wonderful. They gave each of us challenging assignments to shoot every day and reviewed every photo, providing very constructive critiques on each photo.
During these sessions, Philip and Daniel encouraged us to raise questions, criticise each other's work and share our thoughts openly. They were full of excitement and of course, a lot of frustration when we did not receive good feedback for the mistakes we made photographing. However, I think this is a part of learning journey and it is great to know the various ways to approach the streets."
Aung Zaw Myo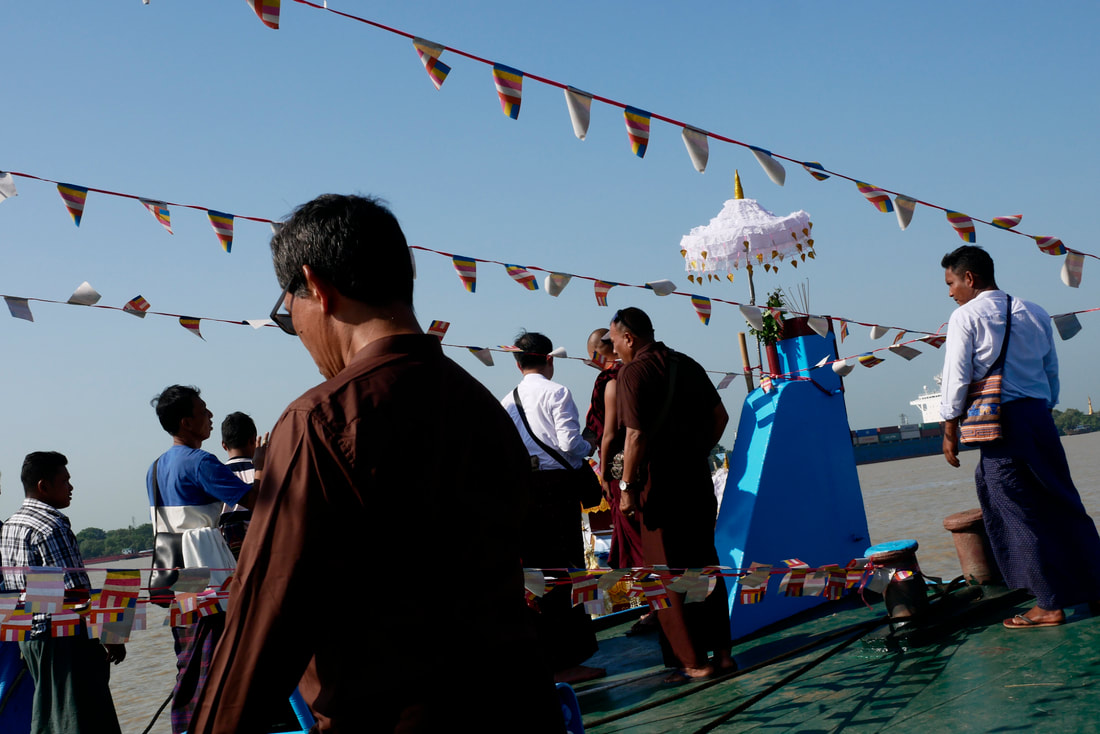 "I work full-time as an architect, but have been photographing constantly since 2017, using photos as an escape from the existential stress and monotony of work. Photography for me is taking photos of subjects with which I find a connection; (could be a dead cockroach or people on the street).
On day one, we all gave short introductions and Philip and Daniel gave us humorous nicknames based on what we presented. I was called the 'Disconnected architect'.
During one of the workshop days, while looking at our photos, Philip commented on my discomfort shooting people on the street. (On the street, without the camera, I enjoy observing what's going on and I am at ease. But once I am with a camera, I feel like a fish out of water.)
The workshop was refreshing but also left me in confusion. I have absorbed as much as I could from the workshop and now I need to spend some time sorting out and thinking through what I have learnt, my own ideas on photography and how I want to do it in the long run."
Khin Kyi Htet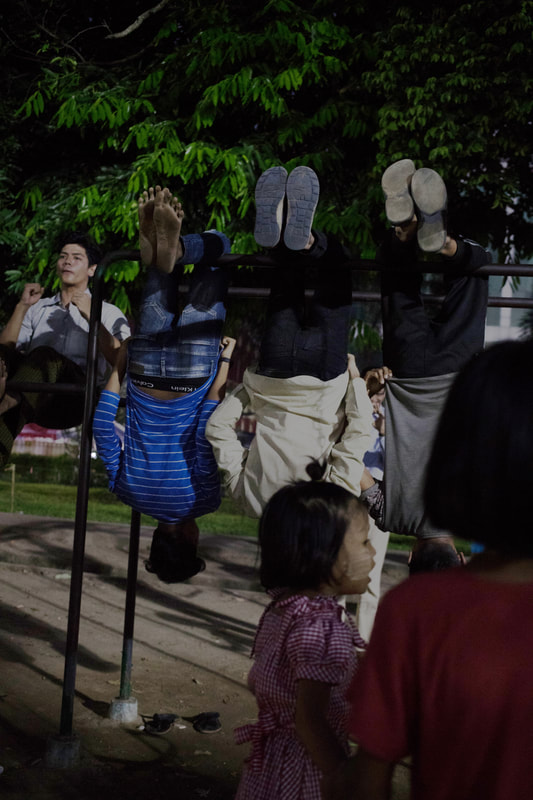 "As I am a photojournalist, I always try to put all the information into the photograph. During the workshop, Philip and Daniel point out this fact to me and I began to question myself and think about why I put so much information into the photo.
Thanks to Philip and Daniel and these tough, intensive days, I managed to push myself to the limit."
Nyein Su Wai Kyaw Soe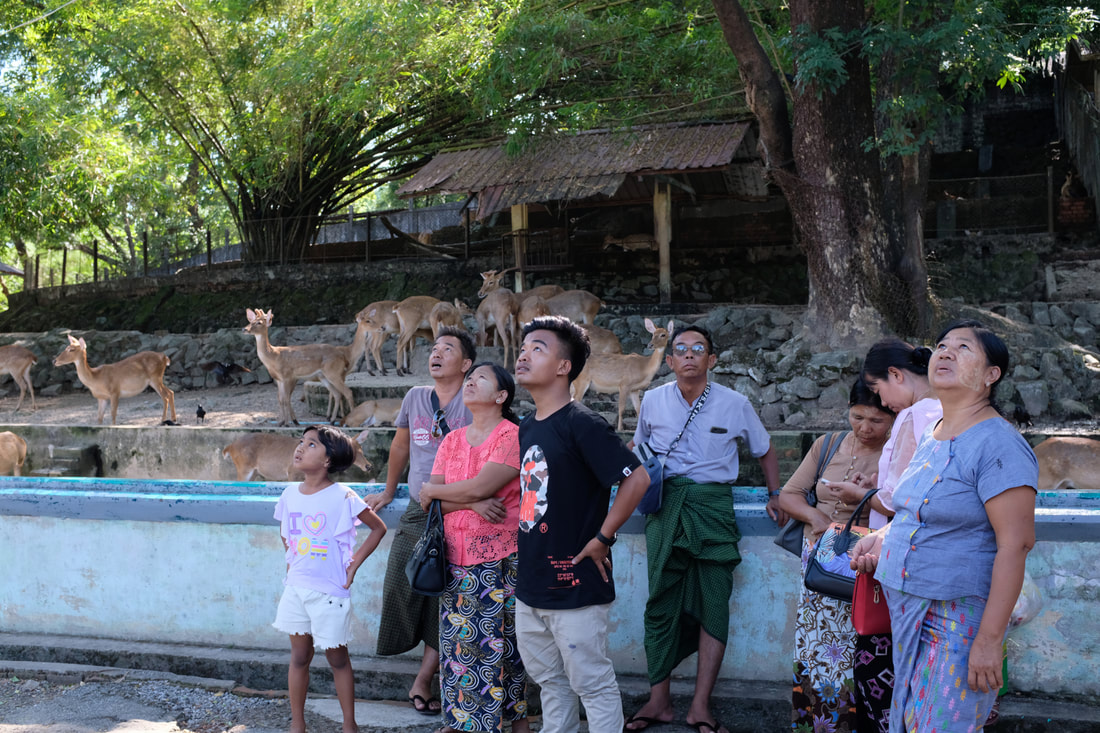 "Last year, I was on the train to Moulmein with Philip and Daniel. There was a 24/7 continuous guidance and instruction on how to shoot and where to go and what to do. It was learning on the spot. Everything on the trip was different than this recent one.
Philip and Daniel's workshops are one of the best I have ever had. The energy and vitality and experiences in both of them are somehow transferred into us to be one true photographer not just in Yangon but anywhere in the world.
I have some challenges while shooting in Yangon. It is not just with this training but with any training based in Yangon. It is hard for me to find something that visually provokes me to take a photography. On the trip to Moulmein, my final results surprised me as some scenes were things I would not notice in the streets of Yangon.  But in Yangon, it was difficult as I could not define what was visually interesting.
As learning is the goal, Philip and Daniel's feedback on my work was the best part of this training. However, I think it could have been better if I could have had the learning experiences from these two great mentors in a way of more in-depth learning circle. In a way that, we would be shooting together in closed or nearby places so that they can see what we were doing wrong or right. I think I missed most of that chances of closeness with the two mentors during this training as there were some complication on my side. I believe that I could have done much better and I was not truly satisfied with myself. I think this is not the best of me.
To conclude, the words of advice from these two great mentors are always with me and I believe I will be more attentive in developing my skill set in photography because of them.
Like Philip has said, I have to be more severe in analysing and critiquing my own photographs than others might be.
With Philip and Daniel, there are always something new to learn. I would like to thank both of them for being in Myanmar again and for teaching us. It has been a great week but I believe it could have been much better if we were on a boat or a train up to Kachin state or some other places of Myanmar."
Rita Khin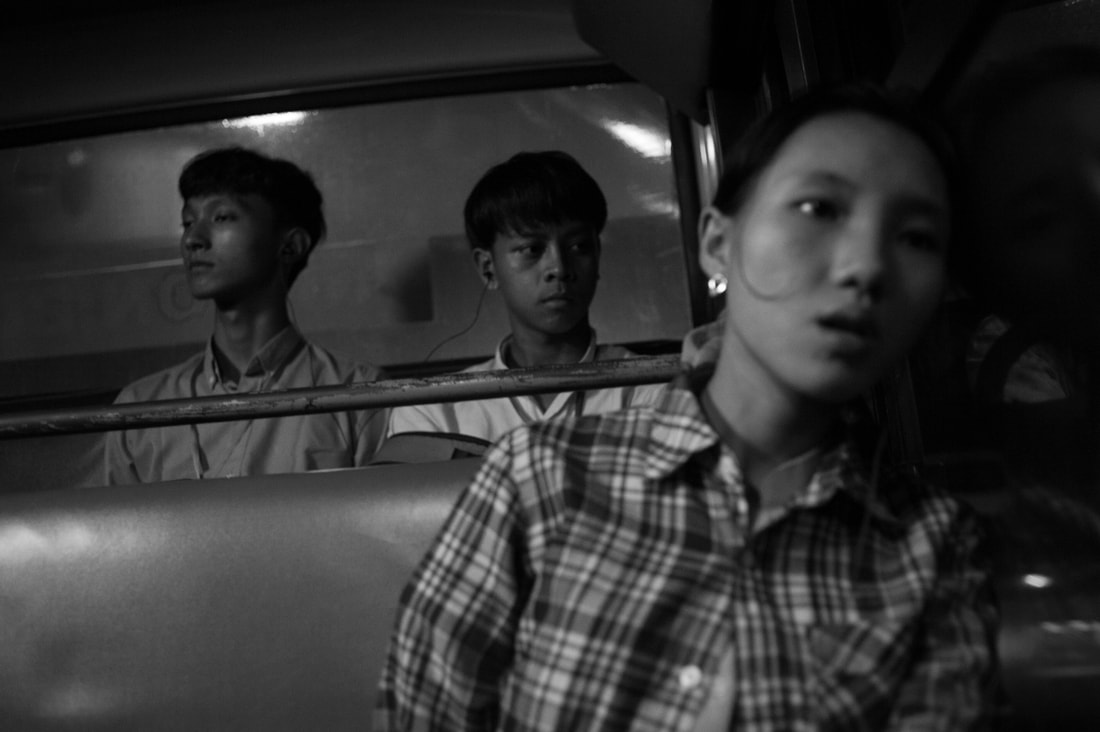 "My Name is Shin Moe Myint and I began photography over 2 years ago. I work as a photojournalist at The Myanmar Times where our photo editor suggested that I shoot in the street but I thought it's only worth following news related photos.
It was our photo editor who trained me. He used to be a student of Philip's before, so it has never been a problem for me to approach people and photograph them.
But during this workshop, I discovered the joy of shooting the streets and learned how to fill the frame and even shoot vertically. Thank you Philip and Daniel for letting us learn from you."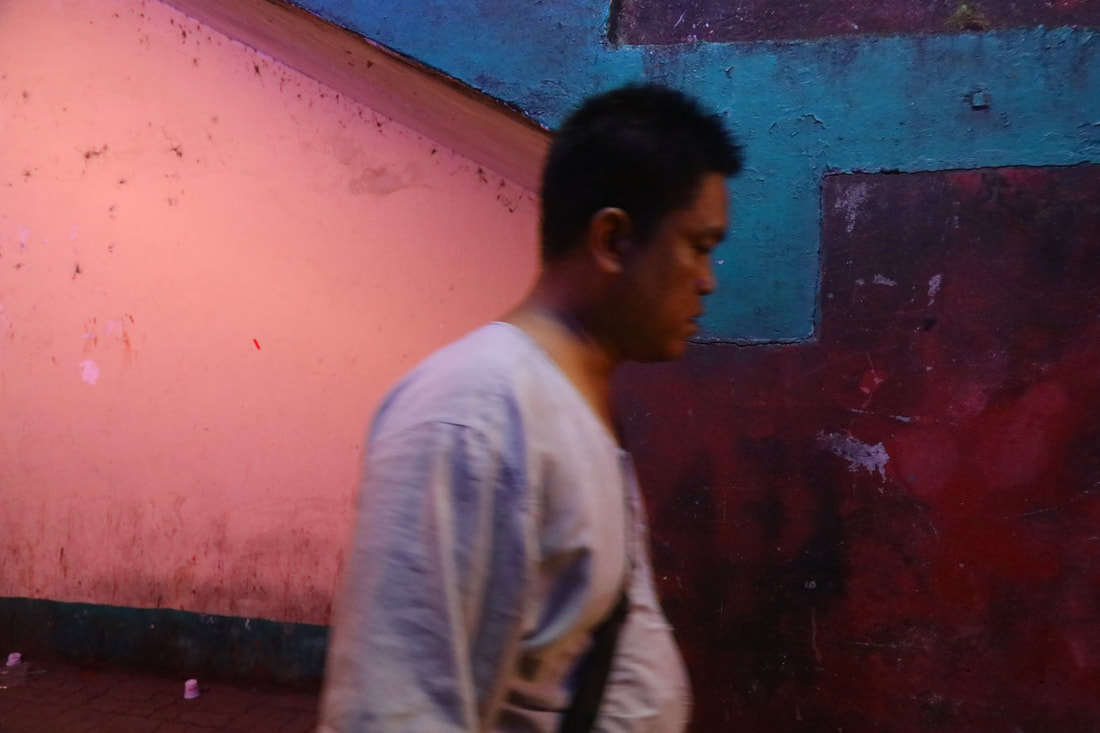 "As a photographer whose practice is not much working on the street, this workshop of Daniel and Philip's offered me an exciting challenge, a new experience and another level of approach into my photography.
I have never been uncomfortable to photograph people in a setting or staged approach, but when it came time to walk around on the street and photograph people in the market, at the jetty and train station or on the bus, it was a really challenging and new experience for me.
Philip and Daniel were very committed to the training and attentive to each and every participant. They not only provided eye-opening input in the classroom, sharing both their own works and those of the late photographer Robert Frank's life and spirit but also walked around on the streets with us, pushing all of us relentlessly out of our comfort zones and encouraging us in our efforts to approach and interpret what we were photographing.
During those six days, my skill and courage to photograph people and scenes on the streets improved measurably as a result of their guidance and critiques.
The most valuable and touching thing I gained from the 'Seeing the Light' workshop experience was that we have to be THOUGHTFUL, whatever we do, whether it is street photography, conceptual photography or any genre of photography.
​
As a young photographer, I used to think about what I would photograph or what story I would tell. Daniel and Philip told us that understanding who we are and the things that we care about, the things that concern us or make us angry, if we follow our hearts, will define our path as photographers. I got my LIGHT."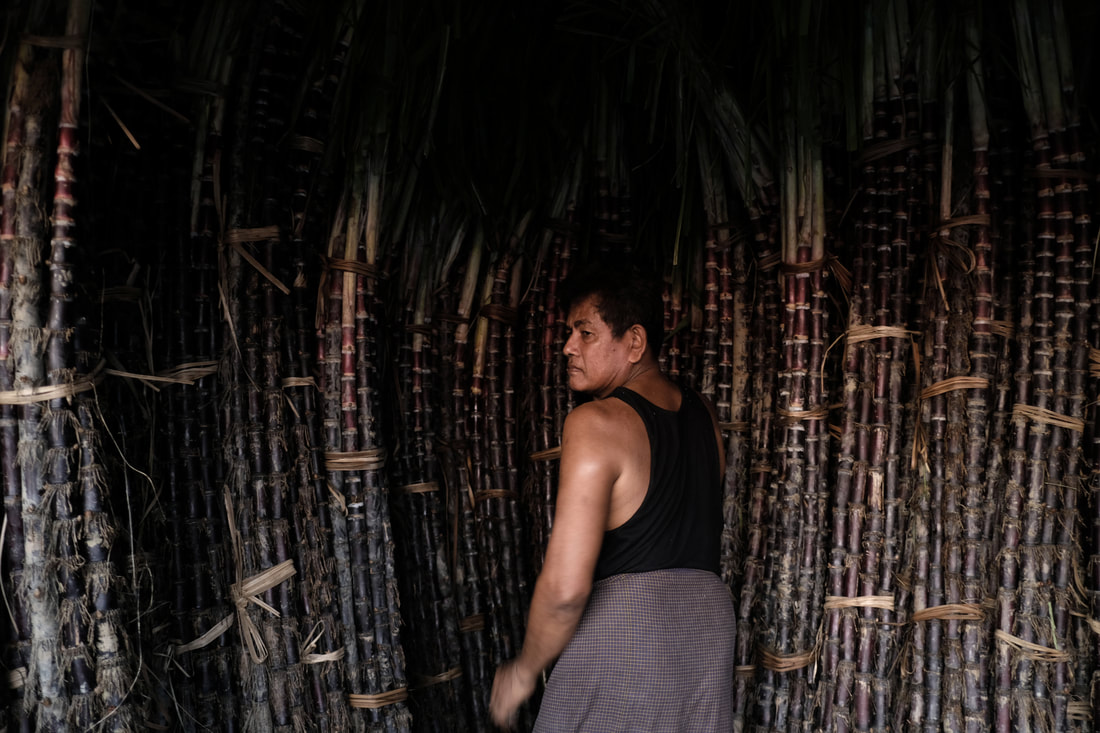 "'Seeing the Light: Rangoon Streets' photography workshop was run by two very different photographers; Philip Blenkinsop and Daniel Schwartz.
No matter how the two are different, they always agreed on the photographs which they thought were good pictures.
Philip is unapologetically straight-forward and Daniel always sees small details of every photograph. Both always make us see the potential of good photographs, even in those bad ones we made.
During the workshop, I needed to unlearn certain bad practices and see the fundamental meaning of photography again, which we always seem to forget trying to be somebody else.
Both believe that there is no excuse for a bad picture because every picture we produce is our decision and what we have to say about the scene we capture, and that also, there should be no such thing as lucky shot.
They pushed us to make images that have energy, mystery and elements that cannot be produced by another photographer the next day. The way the two interpret photographs helped me see what drives me to take pictures. They helped me understand that producing an image is not just about the image itself, it is also about the ethical practice and the thoughtful process of making it, engaging my own knowledge and background.
With no doubt, the experience of attending this workshop is going to be instrumental in improving my photography practice.
Thank you, Daniel and Philip for such an inspiring week!"
Tin Htet Paing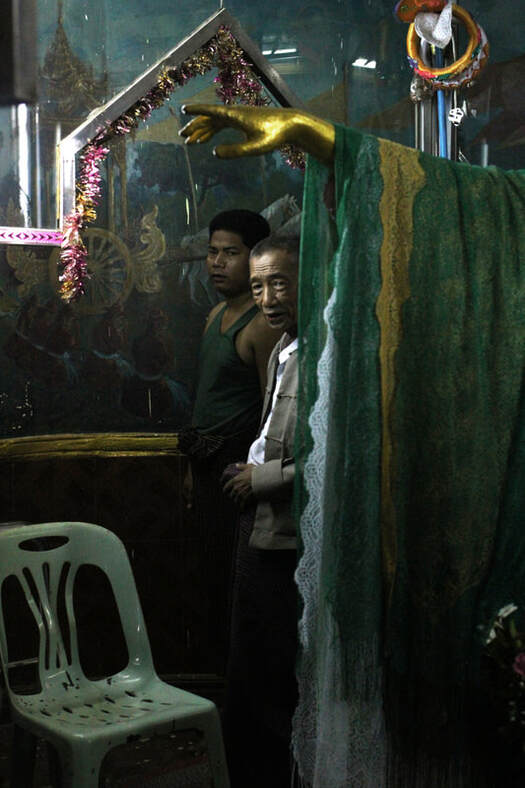 "I am interested in documentary photography and personal projects.
Philip was my first teacher who inspired me to decide to change my career to be a photographer. I have been photographing for 5 year since then.
At first I was worried because, for my personal reasons, in my recent photography practice, it's been nearly (1 and half) years that I have been objectifying people I shoot rather than the way they are and more interested in shooting details and non-human subjects,
This workshop was very challenging for me as I couldn't engage myself in my shooting for the first 3 days.
Through discussion and reflection on Robert Franks' work, I tried to push myself to photograph people's souls without my bias, but so much frustration made me lose myself and I finally engaged myself shooting people again.
I really liked the critique sessions by Philip and Daniel; my most favourite part was: "There is no excuse" for any bad photos, and I was amazed how Daniel finds every detail of which photographs work and which don't.
Also the good thing about the workshop is that we didn't need to agree with whatever they said; even discussing Robert Frank ,we could express our dislike of his photos. I have learnt many things from this workshop; there were things I agreed with and things I didn't (like using flash).
They see the strength of students though, and Daniel said that my obsession of still life made some of my photos better and that I could apply that in shooting people.
I have heard a lot from many people that I am 'really passionate about photography'; I also said this about myself often but I start shutting my mouth after seeing the passion of photography from Philip and Daniel!
Thank you Philip and Daniel for your inspiration."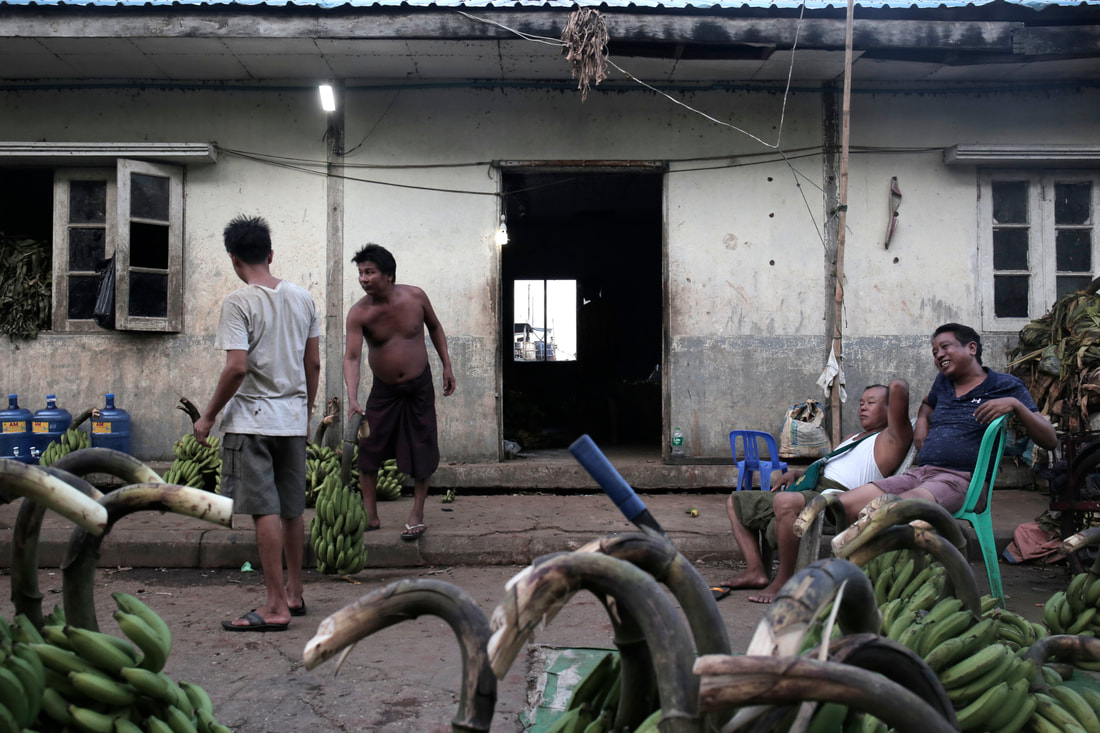 "I have felt a lot of changes in my photography in practices and also how to read photos after attending this workshop. As I am a photojournalist, I found it quite challenging at the start because I didn't know what to shoot in the street because I only shoot something related with news. But I took my effort to shoot in the street and applied what the teachers taught us. I really appreciate that both teachers give the comments on every single photos of all the student's shooting. From them, I learnt the beauty of street photography and its importance and I started to see photos on the streets and the concept of street photos more than before. I cannot thank enough to our two great teachers as well as VII academy and Myanmar Deitta."
Kaung Swan Thar
'BURMESE DAYS' follow-up sessions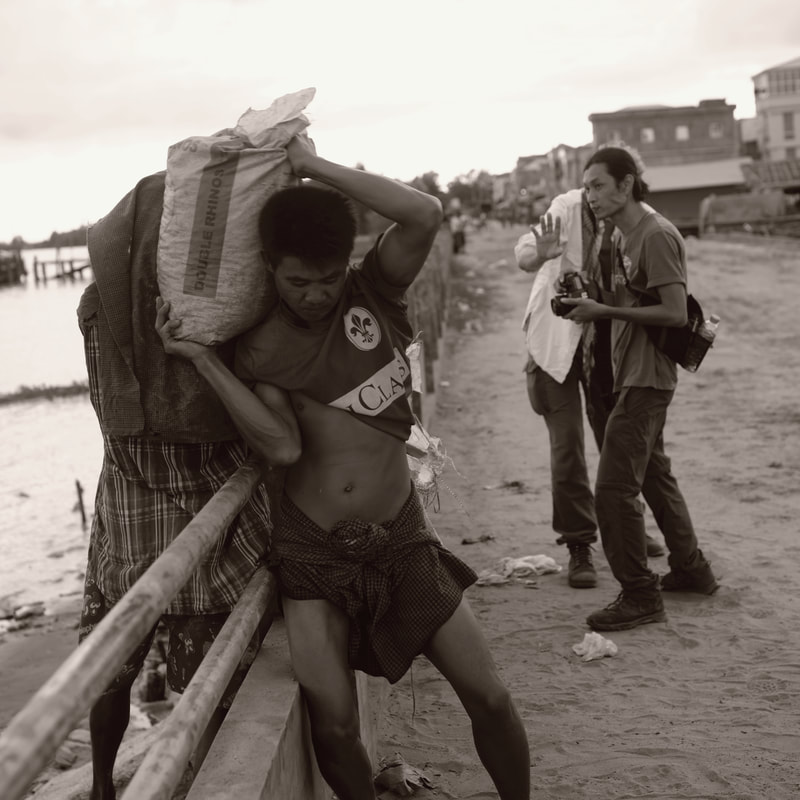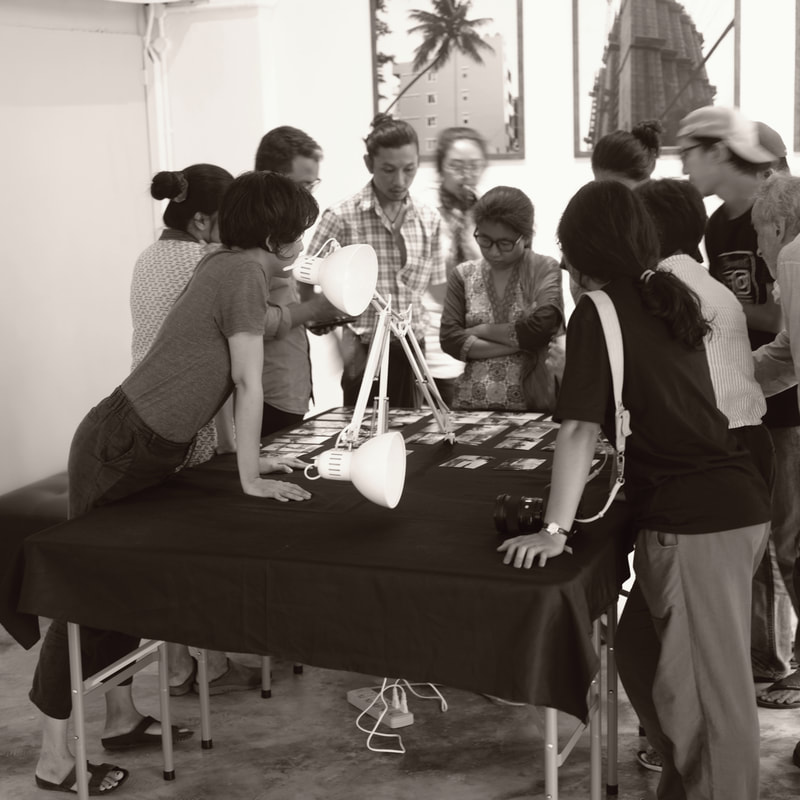 Daniel and I invited Ko Myo to travel with us through the Delta for ten days prior to the workshop; a follow up to 'BURMESE DAYS' our overland workshop of December 2019 which he attended.
​Once back on 'dry-land' in Rangoon he came and shared his photos and experiences with the group on the penultimate day.
As I used to shoot mostly the elephants 'story only, first I had to learn how to shoot in the public area and how to approach strangers. This was my biggest barrier before Philip and Daniel taught me to see photographs in the ordinary, and everyday, to shoot your subjects from different angle to get the best shots. First they told me to go to different angle of the subjects and shoot, but after a while, they taught me how to visualize the good angle by mind-travelling to your subject and make the right decision to shoot the best shot without going to the different angles physically. I also got the habit of brining my camera with me all the time  to get ready for every situation happened.
They trained me how to see the photos from whatever we see. While travelling with them, I had to set my camera ready every time while shorting or not and set my exposure ready based on the lighting of the situation I was in so that I can capture the situation which can happen suddenly or short time. They taught me not to give excuse of lighting of day or night to shoot, I had to be able to get the best shots based on the available light at the situation. I have learnt from them that as a photographer, I have to make my movement according to the people I shoot, like dancing not just standing still.
Besides they also taught me how to deal with community, how to take care of myself physically and mentally. Also I have learnt keeping the diary where I have to jot down the experience of the trip, reflections, knowledge's I have learnt from the trips and people I have met and also make sketches.
After this trip, I have learnt the good use of available light to create the great photos, to think of photos geometrically (use of lines, circles, etc) and most importantly not to be LAZY and no excuse and no lucky shots. I learnt a lot from these two teachers since the first workshop last year but this trip experience is also unique experience for me to be a better photographer as well as a better human being.
Behind the Scenes – SEEiNG THE LiGHT
First two images: Mawlamyinegyun, Irrawaddy Delta Oct 2019 © Philip Blenkinsop / VII
Last image: Letpadan Train Station. Oct 2019 ©️ Daniel Schwartz / VII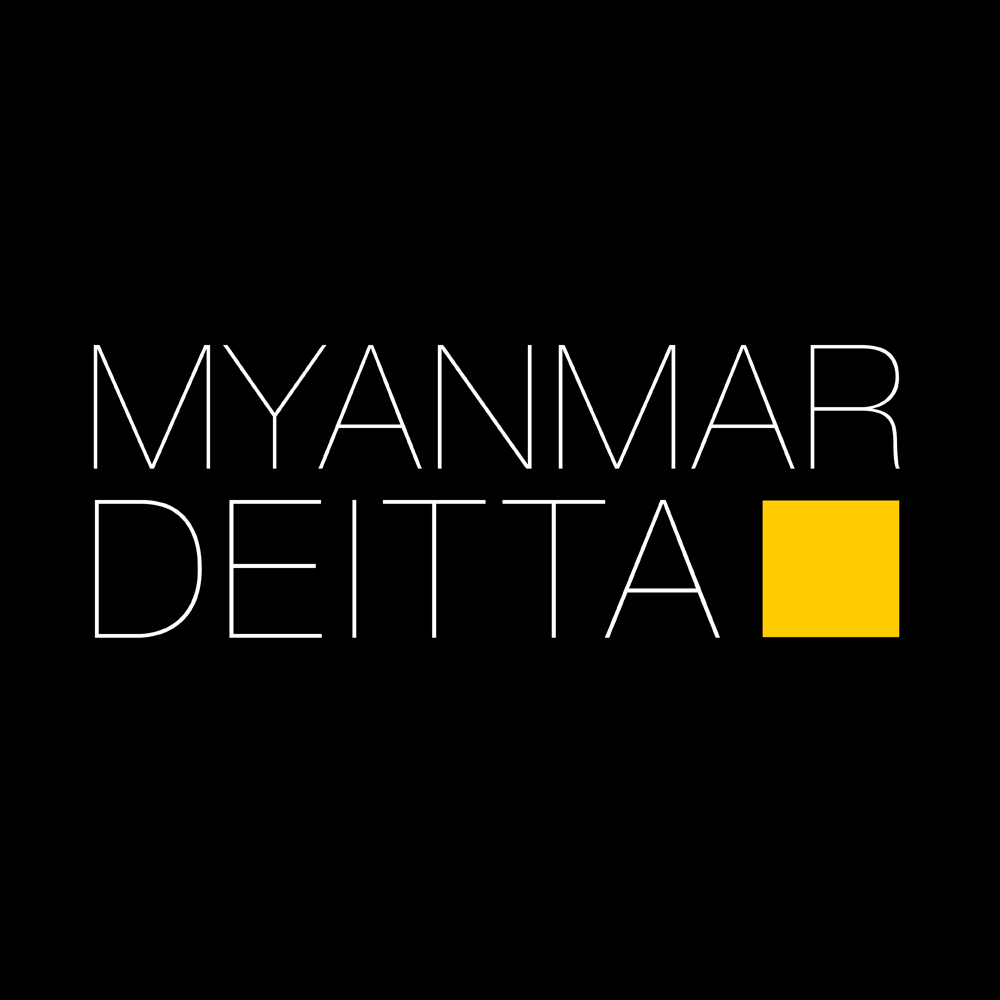 Partner: Myanmar Deitta