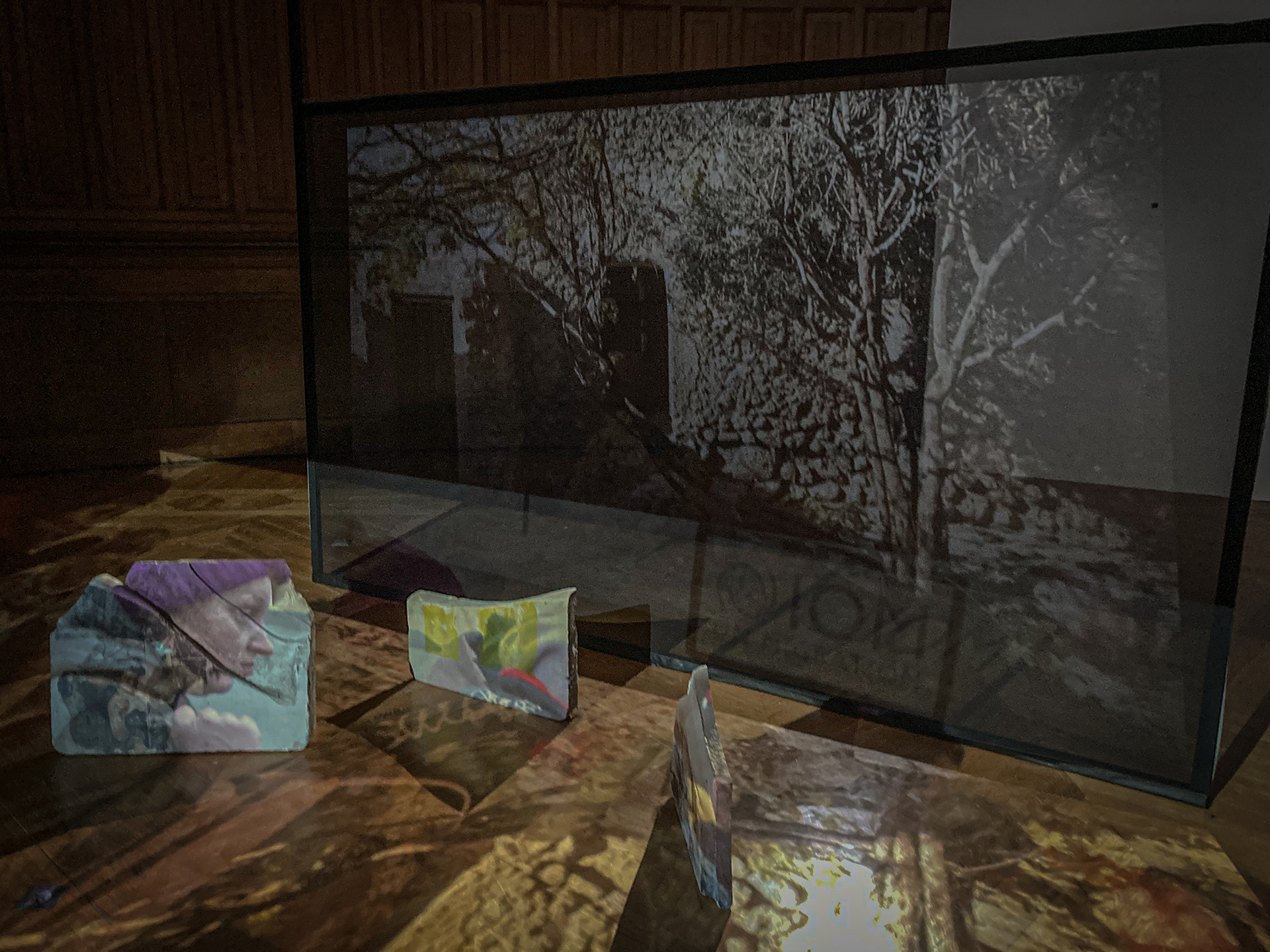 VII Photo Agency is proud to share that photographer Ali Arkady has graduated from Beaux-Arts de Paris, receiving the highest score among the more than one hundred artists who graduate in 2022. For his final project, "Between Two Memories," which demonstrates his concept of monolithography, a jury of artists and critics also awarded Ali the prize of Best Artist of the Year. 
Gary Knight, VII Photo Agency co-founder, former Agency Director, and current VII Foundation CEO states, "This is a richly deserved achievement. Ali and his family have been on a journey that has involved loss and great suffering; how meaningful for all of them that their collective sacrifices have been rewarded through Ali's success. It has been a privilege to share some of this journey with them."
What is Monolithography?
In 2019, Ali Arkady discovered some monolith stones, about a hundred years old, that the Beaux-Arts was planning to throw away. He was overwhelmed by these stones, the ages they had passed, the importance of their stories, and the culture and tradition they symbolize.
At the collective exhibition of the Mesiti workshop to which he is attached in Beaux-Arts, he exposed the stones for the first time. Then, he showed his videos, overlaying them and spreading them throughout the gallery. After this first stage of deconstructing the classical use of a stone, he combined this discovery with another one: lithography, when he was in Bouwens atelier. Invented by Aloys Senefelder in 1796 but definitively developed in the first years of the 19th century, lithography, from the Greek word lithos: "stone" and graphein: "to write," is a printing technique that allows the creation and reproduction in multiple copies of a line executed with ink or pencil on a limestone. This technique reminds Ali Arkady of the printing of old newspapers and links his works to his background as a journalist.
Through his art, Ali seeks to tell stories, to transmit what he has seen and heard. He wants to talk about the past, the present, and the future. The choice of the stone as support anchors his work in a relationship with time. Specifically, today, in the digital age, it leaves a timeless trace of his testimonies. The superimposition of his photographs on these stones puts different periods and subjects in tension. His works create a relationship between these stories, these moments that were not meant to cross each other. Ali Arkady calls this technic Monolithography. He writes stories with these works and, more deeply, writes history in images, drawing from the sources of the Euphrates and Tigris, clay, and the first writings of the world. "Photography" etymologically means writing with light. By bringing together the symbol of monolith stone, on which the first images were painted, and the first laws were engraved, and the testimony of light through photography, naturally emancipating itself from the heaviness of the stone, Ali Arkady uses the very foundations of history to bring out his own contemporary story.
About "Between Two Memories"
This is not the first time I've witnessed war. For over thirty years, it was part of my life in Iraq. As a photojournalist, I have documented war and those most harmed by it. 
In 2014, the Islamic State swept through parts of the country, brutally attacking members of the Yazidi community, a minority group in Iraq. Hundreds of thousands of Yazidis fled their cities and villages, heading to Syria and Turkey. Some walked on foot for more than a week to the safety of the northern mountains of Iraq. It was in this area that I witnessed their journey. As a fellow Iraqi, I felt their pain. While my camera could not capture everything, the photos I took provided a glimpse into the tragedy that had befallen my country. 
Today, five years after I fled Iraq to the safety of Europe, I find myself covering another wave of people on the move in search of safety. On February 24, 2022, Russia invaded Ukraine — attacking everything from government buildings to hospitals and schools, killing hundreds of civilians and leaving thousands wounded. As a result, more than 3.2 million Ukrainians have fled to neighboring countries in what the UN has described as the "fastest-growing refugee crisis in Europe since the Second World War."
My background is rooted in photography and photojournalism. Several years ago, I started working with video, side by side with photography, to produce documentaries. Cinema art offers a more robust and different language than photography, allowing different perspectives to be expressed. I wanted to say more and convey feelings and voices. It's hard to forget video remains longer in our memory.
The video projection represents the flow of events still in motion, the flow of Iraqi and Ukrainian migrants who continue to move today. During the two wars, the stones of the buildings were destroyed by the invaders. Through lithography, I wanted to capture memories and strike moments on broken stones, echoing what has been destroyed.